[rawr]
[/rawr]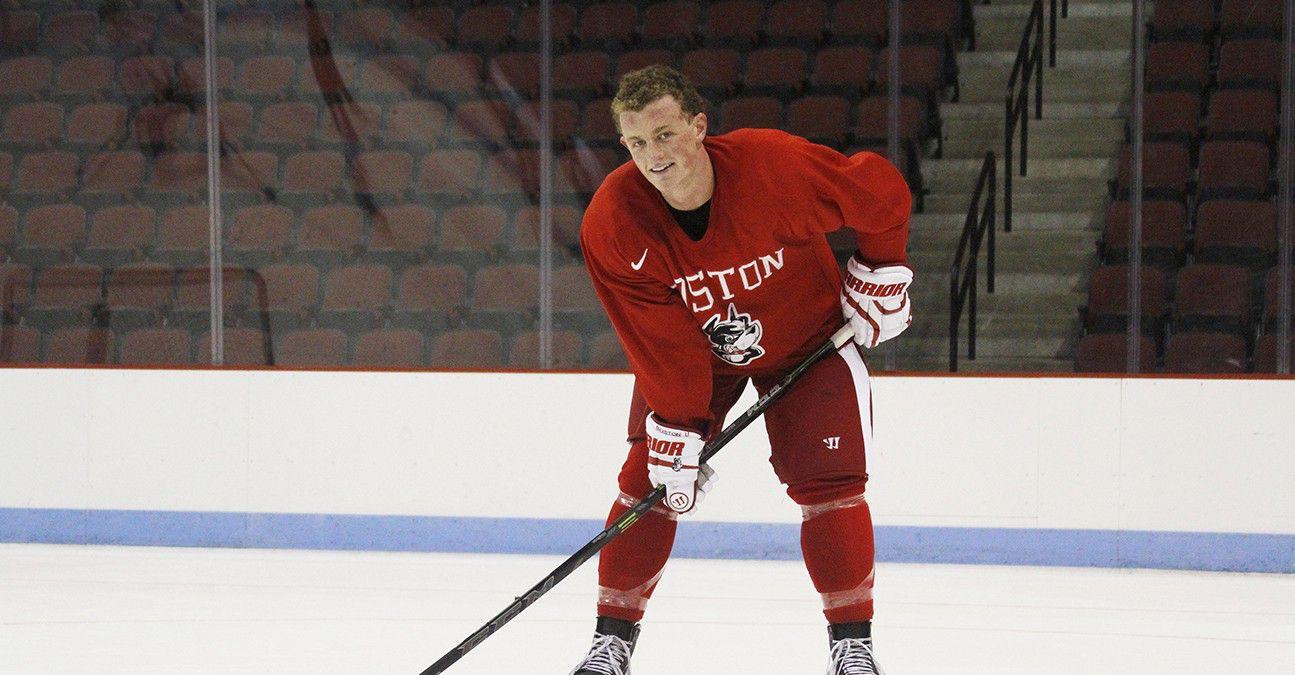 It doesn't take very long for Jack Eichel to make a good impression.
The 17-year-old freshman forward has yet to play in a regular-season game for the Boston University men's hockey team, but Eichel's teammates are already buying into the excitement surrounding him.
"All I can say is that he lives up to the hype," said BU junior forward Danny O'Regan. "A lot of times, guys are overhyped, but not with Jack. He works hard, on and off the ice. He's the most skilled guy I've ever seen in my life, and he's going to do great things. We're really excited to have him."
"All I can say is that he lives up to the hype. … He's the most skilled guy I've ever seen in my life, and he's going to do great things." – Danny O'Regan
There is not much that hasn't already been said about Eichel — BU's most highly touted recruit in years, if not ever. He's already projected to be a top-two pick in the 2015 NHL Draft, was labeled "The Next Face of American Hockey" by The New York Times and has been compared to NHL legends such as Mario Lemieux and Mike Modano.
While these heaps of laudatory remarks may seem distracting, if not smothering, to the average person, they stand as little more than blips on the radar for Eichel. For him, the only thing to focus on is continuing to live up to the high standard that he has built for himself over the years.
"I just try to work hard every day," Eichel said. "If you take your foot off the gas pedal for a minute, somebody is going to pass you, so for me, I just try to work hard every day and get better, and I know that there's always someone out there working as hard as you, so you can't get caught up in the media and people saying good things about you, because I obviously have a long way to go."
---
His father Bob introduced him to hockey and instilled hard work and discipline in him at a young age.
"To be honest, when I was young, my dad kind of gave me the option to play whatever sport I wanted," Eichel said. "He put me on ice when I was 3, and I started pushing a crate around. I just loved being on the ice, so since then, I started playing hockey and loved it ever since then."
The North Chelmsford native quickly excelled at the sport, consistently packing the stat sheets every time he skated onto the ice. At just 13 years old, Eichel earned a spot on the Boston Junior Bruins "B" team of the Empire Junior Hockey League where he usually played against competition that was five or six years older than him.
During his second season with the Junior Bruins, Eichel broke out in a major way, recording an incredible 86 points in just 36 games — a feat that immediately put the young skater into the focus of many scouts and programs.
A star was born.
---
"Eichel's potent production on the ice soon drew the attention of the USA Hockey National Team Development Program, which recruits the best U.S. hockey players under the age of 18 to Ann Arbor, Michigan, to hone their training.
Eichel eventually joined the USNTDP U-17 team for the 2012-13 season, where he immediately stood out to former U-17 coach and current USNTDP U-18 coach Danton Cole due to his agility and impressive 6-foot-2-inch frame.
"When you first see Jack out on the ice or even off the ice working out and being around him, he's a really physically imposing player," Cole said. "His speed and his power out on the ice, I think, right away, you're drawn to how he plays that way."
After posting a line of 19 goals and 15 assists for a total of 34 points in 36 games with the U-17 team, Eichel used the offseason to train even harder for the 2013-14 season. The results immediately began to show.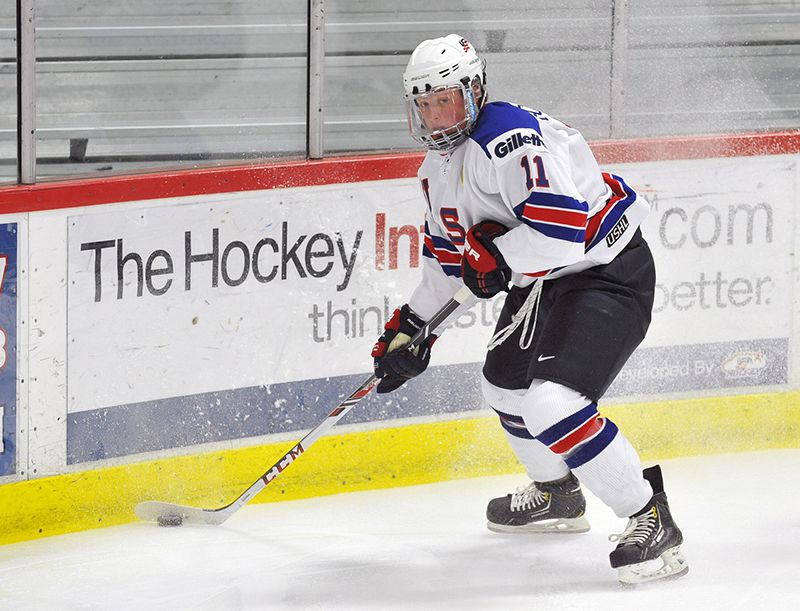 After a successful first half of the season with the USNTDP U-18 squad, Eichel made the cut as the youngest player on the 2014 U.S. World Junior Team, where he played alongside his future Terrier teammates O'Regan and junior defenseman Matt Grzelcyk in the World Junior Championships in Malmö, Sweden.
While the U.S. team was bounced in the quarterfinals of the tournament, Eichel acknowledged that the opportunity to represent the United States against international opponents was something he will never forget.
"I roomed with [O'Regan] in Sweden and in Minnesota at the pre-tournament camp, so I got to know him and obviously hanging out with Grizz [Grzelcyk] a lot," Eichel said. "It was just a great experience. Obviously, we didn't do as well as we wanted, but I was able to learn a lot of things from the older guys like those two. "
After his brief stint in World Juniors play, Eichel returned to Ann Arbor and continued to produce at a blistering pace, finishing the year with 87 points in 53 games — tied for fourth-highest point total in USNTDP history trailing only Patrick Kane, Phil Kessel and Andy Hilbert.
Eichel had made his mark in Ann Arbor. Now it was time to head home.
---
The sight of Eichel darting across the Agganis Arena ice in scarlet and white likely comes as a relief to many within the BU community and fan base, as rumors swirled throughout the past year that teams in the Canadian Hockey League were making the push to try to pry him away from Commonwealth Avenue.
While such scenarios fueled message boards and social media platforms for months, Eichel bluntly stated that a stint up to the Great White North was not for him. He wanted his shot against Hockey East opponents.
"I grew up watching Hockey East, so that's what I kind of wanted to do, and I thought that this was just the best route for me," Eichel said. "I wanted to play against older, bigger, stronger guys. I made a commitment, and I wanted to honor it, and this is an amazing place, so I'm really happy that I'm able to go here."
---
The sample size might be small, but Eichel has already endeared himself to the BU faithful in a big way after just one game with the Terriers. Facing off against St. Thomas University in an exhibition match on Saturday, Eichel put on a show, showcasing his playmaking ability to the tune of five assists en route to a 12-1 thrashing of STU.
Despite Eichel's stellar debut with the Terriers, BU associate head coach Steve Greeley acknowledged that it is important for people to temper their expectations for the young forward going into the 2014-15 season.
"He's had an unbelievable career, but a 17-year-old kid, I don't care whether you're a hockey player or you've started a company, there's going to be some ups and downs to his year," Greeley said. "He's going to face challenges, but we think he's going to meet those challenges, and it's just little bumps on the road that every single player's going to have."
There's no doubt that a 17-year-old player like Eichel will likely go through a few bumps, while charting in a highly competitive conference like Hockey East. However, based on Eichel's prior track record, Cole said Eichel has both the skill and the "intangibles" to make a seamless transition into his collegiate career.
"There were very few D-I [Division-I] games that we played last year that he probably wasn't, if not the top-five best players on the ice every game, maybe the best player on the ice," Cole said. "His physicality, his strength and his size and his speed will help him with that."
Eichel is quick to dismiss the notion that he feels any pressure from outside sources. All the stress placed on him is from the pressure he puts on himself, and he wouldn't have it any other way.
"I think I obviously put pressure on myself, but I think that brings out the best in me," Eichel said. "I expect myself to get in here and try to be a difference maker every time I get put on the ice by Coach [David] Quinn and whatever situation that he asks of me."
---
There is a method to the madness for Eichel.
All of the hours in the gym, all of the summers spent skating in a rink and all of the sacrifices made by both Eichel and his family have all revolved around one goal: a shot at stardom in the NHL.
The chance to go first or second overall in the NHL draft is a tough scenario to ignore, even for a focused player like Eichel. However, he is not ready to talk about the draft. He is sticking to the formula that got him where he is today.
"Obviously, the draft is in the back of your mind. It's something that you've been dreaming about your whole life," Eichel said. "With that being said, the draft is in June, and we're in October. I'm just trying to get better everyday and focus on UMass [University of Massachusetts-Amherst Friday night].
"I have high expectations for our team, and I think we do as well. I don't think people on the outside have as good a feel for this team as we do, and I think we have a belief in ourselves, and I think we can do a lot of good things with this group."