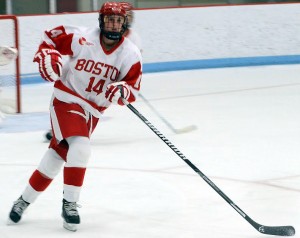 After taking a pair of games from defending NCAA national champion No. 10 Clarkson University last week, the No. 6 Boston University women's ice hockey team is on the road again for another weekend series.
The Terriers (3-1) are slated to face their first conference opponent on Friday when they travel to the University of Maine for a two-game series.
"It's always exciting," said BU coach Brian Durocher about the start of the Hockey East schedule. "The kids know that that's a focus and a goal at the beginning of the year, so to get the first game in the league, the first two in the league underway, it's important to get a good start and give yourself a chance to be in the right end of the standings."
Maine was picked to finish second to last in Hockey East this year, just above the University of New Hampshire, but Durocher is not taking the Black Bears (2-4-1, 1-0 Hockey East) lightly.
"The first thing we've gotta make sure we do is [be] respectful of our opponent," he said. "We're going on the road again. It's always tricky to play on the road, and Maine isn't quite as high profile as Clarkson, but we talked about it this week, and we'll continue to talk about it until the puck drops. We've gotta make sure we respect our opponent and are ready to go with a team that last year proved to be a very good skating team and a very competitive team throughout."
Maine lost its last two contests and has been winless since the first two games of the season. The Black Bears have scored a total of two goals in their last five games and were shut out in four of those contests. In total, they've scored seven goals while allowing 13.
However, save for one 4-0 loss to No. 7 Quinnipiac University, the Black Bears are not getting blown out, as their goaltending is keeping them in games. Senior Meghann Treacy has a .947 save percentage after surrendering just 10 goals on 188 shots faced in six games played while backup Mariah Fujimagari has missed two of 55 saves for a .964 save percentage. And the defense, despite allowing about 35 shots on net a night, is 10th in the country in goals against with 1.86 per tilt.
The Black Bears' main problems are on offense. Maine has one player with three points in forward Jennifer More, who leads the team in scoring and is the only player with more than one goal for the team. And while BU is fourth in the nation in scoring with 3.75 goals per game, Maine is 26th with an average one goal per contest. Maine is also second to last in power play conversion, finding the back of the net in zero of 22 opportunities.
The Terriers, on the other hand, have six players who have already registered at least three points through four games. Junior winger Sarah Lefort leads the pack with two goals and five assists, and linemate senior captain Marie-Philip Poulin is right behind her with four goals and an assist. Knowing this does not change the way that Durocher and his team will play against the Black Bears though.
"We've gotta keep an eye on how hard we play, how smart we play and we've gotta make sure that we're ready to do that," Durocher said. "On any given day, a screen, a tip, a deflection can change somebody's mental mindset, and all of a sudden, they get a little confident and pucks start going in, so we'll hope that that starts next week and not against us this week."