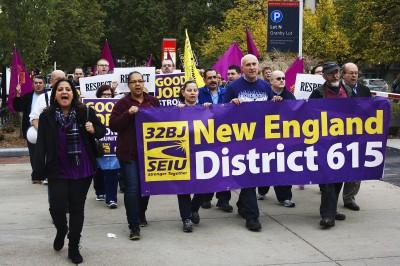 In an effort to put pressure on the university to settle on a new contract by the end of the week, more than 100 Boston University workers and union leaders assembled at Marsh Chapel Tuesday to raise support for increasing wages and maintaining current healthcare costs. The protesters marched down Commonwealth Avenue to BU President Robert Brown's office at 1 Silber Way.
A workers bargaining committee has been working to settle on a multi-year contract between 32BJ Service Employees International Union and BU by Friday, which is the last day before the current contract expires.
"As of today, BU still does not want to give workers a cost of living wage increase that would allow their families to stay afloat in the coming years," said Roxana Rivera, district leader of 32BJ SEIU. "In addition, they also want workers to pay more for their health care in the coming years."
At a previous march on Oct. 15, BU workers expressed how a lack of benefits and inadequate salaries do not allow them to take care of themselves and their families, The Daily Free Press reported on Oct. 16.
City Councilor Tito Jackson, who attended on behalf of the Boston City Council, said that the council supports BU workers and will put pressure on the university to make the right decision.
"We have your back, and tomorrow the Boston City Council will be demanding that BU do the right thing by its workers," he said. "They should not only provide a world-class education. They should provide world-class jobs, and world-class benefits for those folks who work here."
Jackson said the City Council will ensure BU also addresses the issue of diversity within the context of how it affects workers.
"We will be subpoenaing the president of this university to make sure that they come and also deal with another issue we have at Boston University, which is the issue of diversity," he said. "It can't be a university where all of the people of color clean the buildings, and all of the other folks teach in the buildings."
In response to BU's announcement Thursday to extend health and dental benefits to anyone working 50 percent of a full-time schedule, Rivera said the union did not want to reduce current health care costs, but simply to negate BU's motion to increase them.
"What we're saying is we need to control those costs going forward because it's out of the means of the service workers here on campus," she said.
On Wednesday, union members will vote on whether to authorize a strike if they are not content with the terms of the agreement reached by Friday, said Eugenio Villasante, a spokesman for 32BJ SEIU.
Villasante said authorization only makes strike an option, not a guarantee.
"We are going to be announcing the strike vote for tomorrow. That doesn't mean we're going on strike," he said. "It just means that the workers who will be here tomorrow will authorize the bargaining committee to call on a strike in the event that we don't reach a deal Oct. 31."
Timothy Hall, a custodian on the committee, said the strike authorization vote is necessary to use as leverage to negotiate with BU.
"We're looking for a strike authorization vote. We need that," he told the crowd. "If we don't get that, BU is not going to deal with us fairly, because it's the almighty dollar."
Kenny Fernald, a plumber and a member of the bargaining committee, said he does not think the negotiations would come to a strike.
"My feeling is that nobody wins in a strike, and so hopefully we can stay away from that," he said. "As long as we're talking across the table and we have communication, we'll resolve it."
Tori Dutcher-Brown, a member of the Student Labor Action Project, said the negotiation would affect workers all across Massachusetts.
"If this will go down, it will actually have a massive effect on the whole state of Massachusetts, which relies heavily on educational work, so there's a lot of workers inside the education," Dutcher-Brown, a sophomore in the College of Arts and Sciences, said. "In all, it would result in lower wages and more expensive health care all across the state."
Dutcher-Brown said part-time jobs are another issue to be covered in the new contract.
"Those workers do the same hours, same work as full-time workers, but they do not receive any health care benefits, tuition benefits or education benefits from the school," she said. "So they're standing there right next to each other doing the same work, but receiving different pay and receiving different benefits."