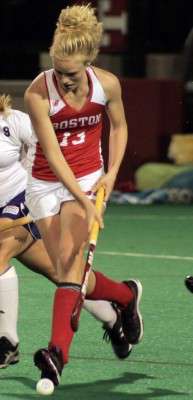 After winning the program's first Patriot League Championship on Saturday, the No. 17 Boston University field hockey team will move on to participate in the NCAA Tournament this weekend.
The Terriers (13-7, 5-1 Patriot League) will face No. 4 Syracuse University Saturday morning in Syracuse, New York.
Making its first NCAA tournament appearance since 2007, the Terriers will aim to finish off what has been a successful season for the team thus far. In Lewisburg, Pennsylvania, BU downed American University, 3-1, in the Patriot League semifinals on Nov. 7 and held on for a 2-1 win over top-seeded Bucknell University in the conference championship game on Saturday.
Despite missing both sophomore midfielder Hester van der Laan and freshman midfielder/forward Kali Shumock last weekend, BU was able to successfully combat two of the toughest teams in the Patriot League. The Terriers have won nine of their last 11 games and are currently on a five-game winning streak that has added to the positive energy surrounding the team recently.
"The girls have a lot of confidence in themselves. They have a tremendous camaraderie, and I really think that's what won us the championship game at Bucknell," said BU coach Sally Starr. "We're peaking at the right time. We actually went into last weekend with a lot of injuries, and we're going into this weekend really healthy. We're feeling good about the opportunity to compete against a very good team."
Both van der Laan and Shumock will make the trip to Syracuse this weekend, as van der Lann has recovered from a concussion and Shumock has recovered from an illness.
"Both are healthy, and both are making the trip," Starr said. "It will definitely add to our depth for our team, which we really did not have at all last weekend."
The Orange (15-5) is also in the midst of a successful season, becoming the Atlantic Coast Conference Tournament runner-ups. Junior Emma Russell leads the team with a total of 19 goals this season and 42 points. Goalkeeper Jess Jecko boasts a .680 save percentage.
The Terriers will come into Saturday's game led by senior goalkeeper Valentina Cerda Eimbcke, who received the Patriot League Tournament MVP award this past weekend. Eimbcke is 11th in the NCAA in save percentages, which is .758.
Sophomore forward Amanda Cassera leads BU with 14 goals and 32 points and played a huge role in the wins against American (9-9, 4-2 Patriot League) and Bucknell (13-6, 6-0 Patriot League), scoring three of the Terriers' five goals of the weekend. Sophomore forward Taylor Blood is also on a hot streak, having scored in both tournament contests.
"We can't look at it any differently at all. It's another hockey game. It's the NCAA Tournament. It's exciting," Starr said. "For us, our ability to stay focused on the fact that it's a hockey game and come out and be the best that we can be. It's about one game at a time, and one opportunity at a time. This is another game and another opportunity for us to play the best that we can play."