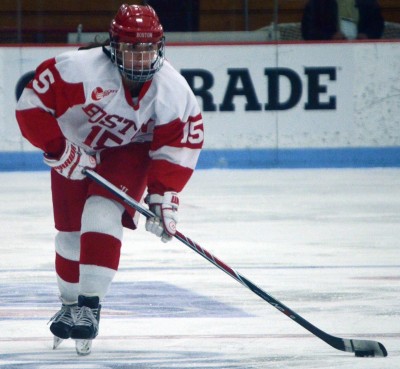 Defensemen are rarely hailed for their stick-handling skills or ability to generate offense, but for junior defenseman Lillian Ribeirinha-Braga, the opposite is true. In the No. 5 Boston University women's hockey team's 4-2 victory over Dartmouth College on Saturday, Ribeirinha-Braga scored her first goal of the season and recorded her sixth assist of the year.
Usually, Ribeirinha-Braga is battling and deterring opposing forwards from the Terriers' (10-3-2, 6-2 Hockey East) goal, but the Dartmouth (4-3-0) game revealed her offensive talents. BU coach Brian Durocher said he has been impressed with Ribeirinha-Braga's efforts on offense.
"She's a very competitive and confident kid first of all," Durocher said. "Those are definitely two of her calling cards. She isn't afraid to make a mistake out there, and she has really quick hands in the breakout or up near the offensive blue line. Her goal was a big one for us since it was the second one of the night and gave us a bit of a cushion."
Another aspect of Ribeirinha-Braga's game that continued to shine against the Big Green was her shot-blocking ability. She blocked two Dartmouth shot attempts, pushing her season total to 17.
This comes as no surprise though, as she led Hockey East in the 2013-14 season with 80 blocked shots. Durocher emphasized how important this element of Ribeirinha-Braga's game is to the team's defensive efforts.
"Defensemen are in the position where they're going to block shots," Durocher said. "Some are accidental, and some happen because of pure courage, but in this day and age, it is important to have defensemen willing to put their body on the line. She certainly has done a really good job in that regard."
Bach continues strong play
BU's two biggest offensive threats this season have been senior captain Marie-Philip Poulin and junior forward Sarah Lefort, but opponents should start to have freshman forward Victoria Bach on their scouting report as well.
This past weekend against Dartmouth, Bach registered an assist on the Terriers' fourth goal and saw her point streak reach eight games (six goals, three assists). Bach's assist also increased her point total on the year to 13, which is good for third-best on the team.
"Victoria has earned her way onto the first power-play group, which has certainly helped," Durocher said. "She has also been pretty adept around the net and has shown that without a doubt, she is a very gifted kid with excellent and even deceiving speed. We are fortunate she has gotten off to a good start because that breeds confidence."
In all of these impressive moments, it is easy to lose sight that Bach is only a freshman. She is still relatively new to the pace and intensity of college hockey, but her early season form shows that she has wasted little time adjusting to her new team.
"Prior to coming to Boston University, it was clear she was an offensive talent that clearly can score goals no matter the level," Durocher said. "We had our fingers crossed that she was going to be able to do it at this level, and without a doubt, she has."
Unbeaten streak stretches to five
During the early portion of the season, BU encountered several obstacles and setbacks, but its recent run suggests that any past struggles could be a thing of the past. With this weekend's win over Dartmouth, the Terriers' unbeaten streak now sits at five games.
This five-game stretch has seen the Terriers win four times with one tie. To Durocher, this boils down to the return of Poulin from injury, but also a complete team effort in which certain players have risen to the occasion and consistently executed the game plan.
"We got a key player back when Marie-Philip Poulin came back, but more importantly, other people have stepped up," he said. "The six defensemen have really stepped up recently, and kids who haven't been in the limelight have elevated their game."
However, Durocher said it is still relatively early in the season. The Terriers must hone in and prepare from the moment the puck first drops at center ice until the final whistle sounds.
"In the early part of the season, we have shown that if we don't come ready to play, people can beat and tie us," he said. "We have to make sure we don't worry about how many games we've won or lost. We just have to make sure we are focused on what is on the agenda next. If we go in with that type of focus each game, I like our chances."