After dishing off the puck to his teammates seven times this season for assists, freshman defenseman Brandon Hickey finally scored his first collegiate goal on Saturday. With a grin, he described the feeling of getting one in the net at a postgame press conference after No. 2/3 Boston University men's hockey team's 4-2 victory over No. 18 Merrimack College.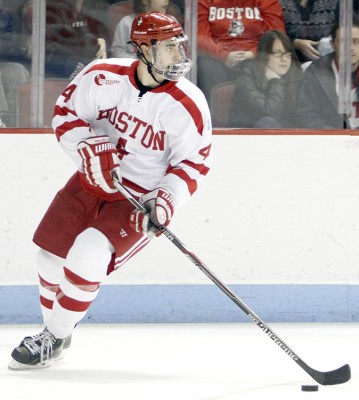 "It's for sure exhilarating," he said.
The Alberta native is just one member of BU's young yet effective defense, which has also quietly proven crucial to the offensive success of the Terriers (10-3-2, 7-1-2 Hockey East) in the first half.
Hickey's goal against the Warriors (10-5-2, 4-4-1 Hockey East) came at the 2:46 mark of the second period, with a wrister from the right side that sailed past Merrimack goaltender Collin Delia.
"I had a lot of shots today, and one ended up going in," Hickey said. "It was all the work of the forwards up there. [Junior forward] Danny [O'Regan] made a good play to [freshman forward] Jack [Eichel], and Jack drew the guy and popped it to me. I was just happy to put it in."
Hickey ranks second among all BU defensemen with 35 shots on goal this year, and leads all defensemen in scoring with eight points. He's also tied for fifth overall on the team in total points.
"He shoots the puck very well, gets it to the net, keeps it low, so he's bound to get one," said BU head coach David Quinn. "And he'll get a few more. He's a real good player who can find the shooting lane. Doesn't get a lot of shots blocked. And hopefully that's one of many to come this year."
Hickey didn't want to take too much of the credit, however.
"I'd say it has a lot to do with my teammates. My D partner, [freshman] Brandon Fortunato, is really good at moving the puck," Hickey said. "As soon as you get it to the forwards they're going to take over. So it has a lot to do with the teammates, and to shoot it on net, the rebounds are there, the forwards are putting it in. And I think that's been a big part of why I've had a decent start so far."
Freshman defenseman John MacLeod also had two assists in the contest. MacLeod nearly added another goal to his total, and was originally credited with a goal, but the score was ruled to have been tipped in by junior forward Danny O'Regan, who had a hat trick in the game.
All six of BU's regular defensemen have registered at least three points through the first 15 games of the season. After Hickey's eight points, junior captain Matt Grzelcyk ranks second with seven points on the year. Hickey's defensive partner, freshman Brandon Fortunato, has six assists on the year. MacLeod and freshman Brien Diffley also have a goal apiece to their credit.
Only three defensemen on BU's 2013-14 squad had more than four points during the entire season: now-junior Ahti Oksanen (24 points), who moved to the forward position for 2014-15, now-graduated Garrett Noonan (20 points) and Grzelcyk (11 points). Five of BU's defensemen have already matched or surpassed that four-point total.
Hickey said much of this success has to do with the team's balanced play on both sides of the ice.
"I think it just means we're well-rounded as a team right now," Hickey said. "The defense knows how to move the puck well and the forwards also move the puck up the ice as soon as we get it to them. It just speaks a lot about how even we are as a team, even the skill of our forwards as well. It's not just the defense that are doing the work. We're just getting it to them and they're doing their job."