Third-period comebacks and late heroics have been a hallmark of the No. 2/3 Boston University men's hockey team. But with a combined total of four first-period goals through 14 games, so have slow starts.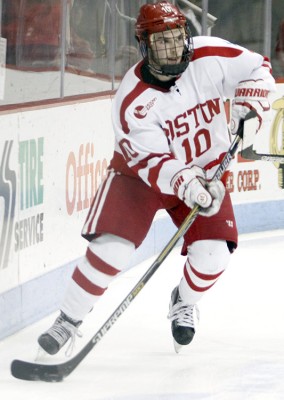 After another sluggish first period in the opening game of a home-and-home series at No. 18 Merrimack College, head coach David Quinn said he hoped to see his team play with a lead from the start Saturday. And after recording a season-low 22 shots, getting a few more chances wouldn't be too bad either.
He got his wishes and then some.
Junior winger Danny O'Regan scored the first of his three goals on the night halfway into the first period, propelling the Terriers (10-3-2, 7-1-2 Hockey East) to a 4-2 win over the Warriors (10-5-2, 4-4-1 Hockey East) at Agganis Arena. The team also notched 46 shots on goal, more than double Friday's output.
BU's 10th victory of the season matches the team's win total from all of 2013-14.
"Well, obviously, a great weekend, Quinn said. "Three points in Hockey East is a successful weekend, especially when you beat a team of that caliber. I thought it was a completely different game from last night. Last night we wouldn't shoot the puck, we would the pass the puck and tonight, I thought we did both of those things very well."
The first line that was kept off the scoresheet the last two games was dotted all over it Saturday night. Along with O'Regan's three goals, freshman center Jack Eichel finished with four assists and junior forward Ahti Oksanen added one helper as well.
"That whole line played well, Quinn said. "And the last two nights they haven't been great. One of the things they do so well is move the puck, and when they move the puck and skate they're tough to defend. I thought they did a much better job of that tonight."
Part of the problem the previous few games was that the top unit failed to connect on passes and held onto the puck for extended periods of time. That didn't happen Saturday.
Oksanen and Eichel combined on a crisp passing play to set up O'Regan for a wide-open backhander on the doorstep for his first goal of the game at the 11 minutes in.
"Before the game, Coach was pretty much just telling us to make simple passes," O'Regan said. "I thought we might've gotten out of our game trying to lug the puck a little bit too much individually, and it started in the back end with the D, making quick plays up to us. And we were just using each other, keeping it simple and it opened things up for us."
BU didn't add any more in the frame, but the Terriers kept the pressure up for the rest of the period, garnering 17 shots on net. Junior netminder Matt O'Connor stopped all 11 chances on the other end.
The offense picked up in the second frame right where it left off in the first and scored 16 seconds into the period. O'Regan redirected a slap shot from freshman defenseman John MacLeod past Merrimack goaltender Collin Delia.
Freshman defenseman Brandon Hickey added a goal about two minutes later when his slapper bounced off forward Brian Christie's leg and into the net. It was Hickey's first collegiate goal and second point in as many days.
Quinn said BU's defensive corps that's composed of four freshmen has consistently play well on both sides of the ice, notably in the offensive zone.
"Well, I think they've all done very well. Four 18-year-old defensemen and we don't give up a lot of scoring chances," Quinn said. "There's a bunch of different ways to defend, I think we do a good job when we have to defend. I think we also do a good job breaking the puck out of your end.
"Puck possession and making that good outlet pass is a great way to defend, and those four guys as well as Somerby and Grizzy [junior captain Matt Grzelcyk] do a good job of that."
Christie got his revenge at the 14:59 mark when another shot deflected off him for a goal on a Merrimack power play, this time counting for the the Warriors. But a minute later, O'Regan again pushed the Terriers back up by three when he one-timed a shot off an Eichel no-look pass in the low slot for his first-ever hat trick.
Before the game was over, Delia was replaced in net in favor of senior Rasmus Tirronen.
After failing on three man-advantage opportunities in the third period, including a five-minute major from sophomore defenseman Doyle Somerby, Christie put the Warriors back on the board with an even-strength, rebound goal at 14:45 in the frame.
But the goal was too little, too late, and O'Connor stopped the remainder of the shots to finish off the night with 30 saves and his ninth victory of the season.
"To play 10 league games and only have one loss is a great accomplishment," Quinn said. "But there's a lot of hockey left. And this league can change in a hurry, we're aware of that. But again, we feel good about where we are in the league up to this point."