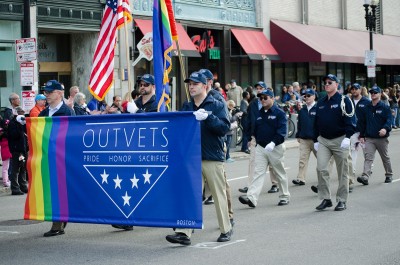 The South Boston Allied War Veterans Council decided Monday in a 5-4 vote to include the veterans group OutVets in the annual St. Patrick's Day parade scheduled for March 15, 2015, marking the first time a group representing the gay community will be allowed to participate in the parade.
The exclusion of gay groups from the parade dates back to 1995, when a U.S. Supreme Court decision ruled that the parade's sponsors could choose to exclude parties because it is a private parade, said Bryan Bishop, CEO and founder of OutVets.
Founded in September, OutVets is an organization for veterans whose mission statement is to honor the sacrifice and service of "LGBTQ veterans through social interaction and community service," according to their website.
Kate Norton, a spokeswoman for Boston Mayor Martin Walsh, said Walsh is happy about the decision to allow OutVets to participate. Walsh has a history of strong support for the LGBT community, and he boycotted the parade this past March when the organizers refused to include gay groups in the festivities.
"Mayor Walsh has been advocating for an inclusive parade for quite some time," she said in an email. "We're thrilled to hear that the South Boston Allied War Veterans Council has decided to make the 2015 parade an inclusive event."
As a strong leader on marriage equality, Norton said Walsh believes LGBT equality is a human rights issue. In the past, Walsh has sponsored many LGBT-focused bills and shown his support for the community. He is considered to be one of the key influencers in allowing for marriage equality in the state of Massachusetts, she said.
Bishop said the parade will, as it always does, focus on the contributions and service of veterans.
"Now what we're dealing with is an inclusive parade, which will allow veterans in, and I think that's the most important thing," he said. "People have asked 'what's different from last year and then this year?' and the difference is that we're talking about veterans here, veterans who happen to be gay."
OutVets was the first LGBT organization to march in the Veteran's Day parade this past November, where they were approached by members of the South Boston parade to discuss their addition to the St. Patrick's Day parade, Bishop said.
Bishop, who is chief of staff for the City of Boston's Department of Veteran's Services, said the organization's most important role to the community is to be supportive, not controversial.
"Our organization's mission is not to march in a parade. Our organization's mission is to help veterans and that's the most important thing that people need to understand about us, because I think some people have thought that we're activists," he said. "We're not. We are community servants."
The organization has no political or social agenda, Bishop said. They simply aim to help all veterans and their families, regardless of sexual orientation.
"Our job is to get out there and bring awareness to the fact that there are LGBT veterans out there who need support and services," he said, "and who need to feel like they're a part of a larger organization who understands them."