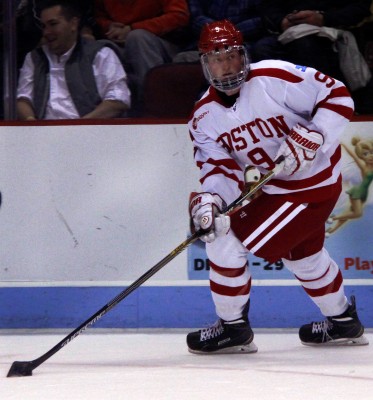 For the first time in 10 years, a member of the Boston University men's hockey team scored a goal at the Terriers' old stomping ground at Walter Brown Arena.
However, the reaction from the crowd to freshman center Jack Eichel's first-period tally was muddled, disjointed and perhaps even ambivalent.
A departure from the normal scarlet and white on the North Chelmsford native's sweater might have played into it.
After notching 27 points in just 16 games with the Terriers (11-3-2, 7-1-2 Hockey East), Eichel suited up for the U.S. National Junior Team Friday night in an exhibition game against BU — a tune-up match for Team USA before the 2015 World Junior Ice Hockey Championship later this month.
Eichel did not disappoint against his collegiate teammates, scoring a shorthanded goal en route to a 5-2 win for USA Hockey.
"It was pretty good," Eichel said when asked about playing against the Terriers. "It was a little bit awkward for me playing against my own team and then it's always a little bit odd jumping in and playing with a team for the first time. … I think overall, it was really good. There's a lot of skill on that team, and I think we created a lot of offense."
After reaping the benefits of Eichel's play over the first half of the season, the Terriers were forced to bear the brunt of the 18-year-old's offensive gifts.
Just a little under 30 seconds after Team USA jumped out to a 1-0 lead off of a goal from defenseman Noah Hanifin, Eichel collected the puck and skated into BU's zone.
Hesitating near the right circle, Eichel feigned a pass before slinging a wrist shot towards BU junior goaltender Matt O'Connor. The puck sailed past the Terrier netminder and into the right corner of the cage, padding Team USA's lead to 2-0 at 10:01.
"I told O'Connor before the game that I was going to look to shoot between his legs, so he went down and I was able to go over him," Eichel said when asked about his gameplan leading up to the score.
Being on the receiving end of an Eichel goal did not matter much to BU head coach David Quinn, who instead focused on the fact that his team relinquished two shorthanded tallies over one USA power play.
"When you give up two shorthanded goals in matter of 50 seconds, I don't care who's scoring, it's not a good feeling standing behind the other bench," Quinn said. "It wasn't so much that Jack had scored, it was the second shorthanded goal we'd given up in 50 seconds."
Eichel did not light the lamp for the remainder of the contest, but his fellow Team USA teammates did the rest of the work, outshooting BU by a 41-20 margin in the 5-2 win.
Aside from the goal, Eichel placed second on the team with four shots, but finished with an even plus-minus rating after being on the ice when BU junior forward Danny O'Regan scored with less than nine minutes left on the clock — making it a two-goal game at the time.
"I expected the worst and he kind of lived up to it," O'Regan said when asked about the expectations of facing off against his linemate. "He's really hard to defend. As a center, you play a lot down low and I think he played his standard game."
While Eichel wore red, white and blue Friday night, he made sure to mark his allegiance to his Terrier teammates at the conclusion of the game.
After taking part in handshakes with the Terriers once time had expired, Eichel joined the rest of the BU players in their customary stick salute to the fans in a showing of camaraderie towards his collegiate team.
"I wasn't aware of it until I heard the reaction, I took a peak out. I thought it was nice," Quinn said. "I know Jack, we talked a little bit after the game, he said it was very weird playing against his team. He's a great leader, he really cares about winning, he cares about being a great teammate. I would imagine it wasn't easy for him to play tonight, but I think once the game got going, it was just another hockey game for him.
"Once the buzzer went off and he realized he was shaking hands with teammates, it also might have been instinctive to kind of join the circle."
While the rest of the Terriers will now enjoy a brief respite from games over the break, the same can't be said for Eichel and the rest of USA Hockey, who will begin World Juniors play on Dec. 26 in Montreal.
After the game, Eichel acknowledged that he received well wishes from Quinn before adding that he had his own reasons to thank the BU bench boss.
"[Quinn] just said, 'Good luck in the tournament and take it home.' I just thanked him for not letting any of the guys hit me."