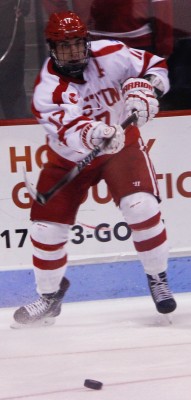 BURLINGTON, Vermont — It's usually hard to go unnoticed when you're the second-best point-getter in Hockey East.
But when your linemate happens to be the national leader in that category, it can be easy to slip through the cracks from time to time. In Saturday's night's instance, senior assistant captain Evan Rodrigues and the No. 3 Boston University men's hockey team won't complain about it.
In fact, the Terriers are more than glad it happened.
BU (15-4-4, 10-2-2 Hockey East) trailed No. 12 University of Vermont by a goal late in the third period despite playing some of its best hockey of the season. The Terriers needed some sort of spark, or even some old fashioned puck luck. When the Catamounts (15-8-2, 7-6-1 Hockey East) turned the puck over in their own zone, BU got a much-needed fortuitous bounce.
Rodrigues, standing almost uncovered in the low slot, caught the puck with the tape of his stick and corralled it, looking at the net to pick the perfect corner. His quick wrister sailed past UVM goaltender Mike Santaguida's glove and Rodrigues pumped his fist as BU tied the game at one.
"I hopped out there and just tried to get a jump on the winger and kinda cheated a little to be honest," Rodrigues said of his goal. "The D didn't see me coming, just kinda trying to go D-to-D and I picked it off and shot it as quick as I could down the net."
The goal sent the game to overtime and also extended Rodrigues' point streak to eight games. Averaging nearly two points per game over the stretch, Rodrigues was due to get on the scoresheet another time before the final horn buzzed. And he did just that.
With 2:56 already played in overtime, Rodrigues fired a shot from the right point, which freshman center Jack Eichel redirected in for the clinching goal. Although Eichel got the glory, Rodrigues quietly earned his second point of the night, a pretty important one at that.
BU head coach David Quinn almost ran out of praises to describe his first-line winger.
"Obviously we're taking a few more chances because we're down by one, but obviously a huge goal to tie it by ERod," Quinn said."And then a great play by ERod just getting the puck to the net and Jack being at the net front and tipping it.
"[Rodrigues is] such a good player, Quinn added. "He's as underrated a player I think as there is in the league. I mean he just does everything — he's competitive, he's skilled, he's fast, he's smart, he's got character. There's really nothing that he doesn't bring to the table."
His senior campaign has been impressive, especially lately. Over his scoring streak, Rodrigues has 15 points in eight games. To put that into perspective, he finished last season with 14 points in 31 games.
And since he moved up to BU's first line on Jan. 10 at the University of Wisconsin, Rodrigues has garnered nine points in five contests. He finished up the Vermont weekend trip with four points, three of them coming on a game-deciding or winning goal.
Rodrigues attributes his high point total over the last few weeks to his fellow linemates, Eichel and junior forward Danny O'Regan.
"I think I'm playing with two great players and I just think I've been getting the bounces, trying to get a lot of the pucks to the net," Rodrigues said. "I think I had over 10 shots this weekend, so I think I'm just trying to get pucks to the net, let Danny and Jack have their open spaces, try to get open for them."
The Ontario native might not get the attention of opposing defensemen, but his coach has recognized his hard work this season.
"He's had a heck of a season," Quinn said, "that's for sure."