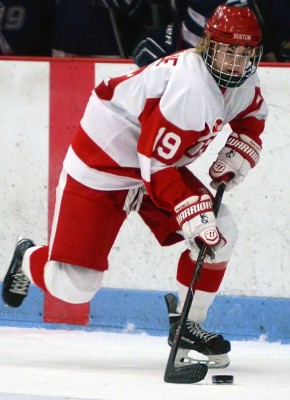 The No. 6/7 Boston University women's hockey team has been buoyed lately by the performance of their top line, which consists of senior captain Marie-Philip Poulin, junior forward Sarah Lefort and junior forward Kayla Tutino. However, this weekend's series against the University of Vermont saw another line lead the charge.
In a close 2-0 loss Saturday afternoon and a convincing 9-2 victory on Sunday, the fourth line of junior forward Jordan Juron, freshman forward Rebecca Leslie and freshman forward Victoria Bach emerged as a force to be reckoned with. The trio has only been playing together for a few weeks now, but they displayed form that rivaled some of the top lines in the country.
Even though the Terriers (16-6-2, 11-4 Hockey East) were held off the scoresheet Saturday at Walter Brown Arena, the line of Juron, Leslie and Bach was persistent in their attempts to light the lamp. The fourth line ultimately tested Vermont (11-15-1, 2-12 Hockey East) goaltender Madison Litchfield a combined eight times, but could not find a way through.
Despite its failed attempts, the fourth line carried on and burst onto the scene in a major way in Sunday's 9-2 victory. The trio finished the contest with a combined six points, as Bach and Leslie both scored twice and had an assist, while Juron chipped in two shots on goal. Bach said her line's success is a result of clicking at the right time and rounding into form.
"Overall, we are moving the puck well, making good passes, knowing where to find each other and where to be ourselves," she said. "I think we are really starting to click, and hopefully we can keep it up."
While Juron, Leslie and Bach made their presence known on the scoresheet, their impact was just as evident through their plus-minus rating. Bach finished the afternoon with a plus-five rating, while Juron and Leslie both finished plus-four. Altogether, this reveals that the trio played a complete game filled with puck control, timely shots and sound play across the board.
The statistics tell a great deal of the story for BU's fourth line, but BU coach Brian Durocher was quick to stress how the intangibles Juron, Bach and Leslie possess are essential to his team's success.
"Victoria is a kid who has scored all year and is a very, very talented player," he said. "She led a league in scoring before coming here, so it isn't a surprise to see points between her and Rebecca Leslie. They are both really gifted players who can make things happen. Whether it is Dakota Woodworth or Jordan Juron out there, they really compliment those two well too. They keep things going and do a good job on the defensive side of the puck."
Looking at the bigger picture, the two-game series against Vermont allowed the Terriers' forward depth to shine through. No longer is the team leaning so heavily on the likes of Poulin, Lefort and Tutino, but instead is getting major contributions from other lines and players.
For Durocher, this balanced approach in the offensive end of the ice is a perfect recipe for success, as it brews confidence and lessens the worry of the first or second line having an off-night.
"When people start to score, they feel a little better about themselves and to have some different people — it wasn't the top line getting the majority of chances — is a real positive for the team as we go forward because we can't just count on one line to do the job," he said.
Led by the efforts of Juron, Leslie and Bach against the Catamounts, the Terriers are now in a promising position as the Beanpot tournament and postseason play approaches. Contributions are coming from all four forward lines, and Durocher said this will be a precious asset in the coming weeks.
"There are going to be nights when somebody's not playing as well," he said. "To have other people who can back us up is great, and certainly the kids were there from all different directions."