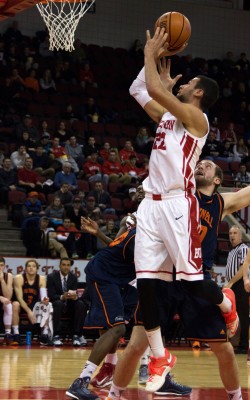 Bucknell University's red-hot shooting was the difference as the Boston University men's basketball team fell 92-77 at Agganis Arena on Saturday afternoon.
The Terriers (8-11, 4-4 Patriot League) have now dropped four out of their last five games. The Bison (11-10, 6-2 Patriot League) came into Saturday's contest with only two road wins, but it was Bucknell that looked more comfortable throughout the game as it never trailed by more than two points.
Even though Bucknell was in control most of the afternoon, the game was full of momentum swings. The Bison got out to an early 10-1 lead, and despite BU's surge to regain the lead late in the first half, Bucknell's 3-point shooting led to scoring in bunches, propelling a decisive 16-6 run late in the second half for the Bison.
Junior guard Chris Hass led the way for the Bison with 28 points, as he was 6-of-7 from deep.
Although Hass's individual effort was the buzz at Agganis Saturday, just about everyone in the blue and orange was hot offensively as the team shot 56.1 percent from the field and went a staggering 13-of-20 from beyond the arc.
"Other guys are starting to evolve, and it is starting to leave open shots for me. We are gaining confidence as a group and trusting each other," Hass said.
BU coach Joe Jones mixed things up defensively throughout the game to try and slow down the prolific shooting of the Bison. The Terriers started the game in a man-to-man look, and after Bucknell started 10-of-15 from the field, BU went to a zone press to slow things down, which proved successful in the first half as Bucknell shot just 3-of-16 during a seven-minute stretch. However, Bucknell coach Dave Paulsen rallied his troops at halftime, and they came out of the locker room firing on all cylinders, forcing Jones and BU back into man defense. BU's creative defensive looks failed to slow down the Bison in the second half as they erupted for 50 points in the closing frame while shooting 69.6 percent from the floor.
"We had no answer tonight," Jones said. "I don't think our guys came out hungry tonight. It doesn't matter what [defense] we play if we don't have the energy."
After a disappointing defensive effort at home, BU has now allowed 90 points in two of its last three games.
"Our ability to understand what it takes to win at a high level is just not very high," Jones said.
While Jones noted his team's effort was lacking against Bucknell on the defensive end, he brought up a bigger issue that he said has been potentially plaguing the young team all season long.
"We didn't lose this game today. We lost it two weeks ago," Jones said. "You have to be ready every day, when I am hooting and hollering about competing."
After noting the breakdowns defensively, junior guard John Papale had praise for Hass's impressive shooting.
"He was going to make shots regardless of what we were playing him in," Papale said.
Meanwhile, Papale had a good shooting night himself in the loss, as he led BU with a career-high 22 points, including three 3-pointers. Papale was very efficient from the floor as well, shooting 61.5 percent.
Outside of Papale, Bucknell did a solid job in limiting one of the best 3-point shooting teams in the Patriot League.
"That was our focus against BU, to not let them shoot threes," Hass said.
The game plan proved successful as BU made an uncharacteristically low four triples while shooting just 26.7 percent from beyond the arc.
BU's season scoring leader, sophomore guard Cedric Hankerson, struggled as he went just 2-of-12 from the field.
Jones recognized the off-night from his star wing player and said he wants him to keep leading the team in shots attempted.
"He has got to be aggressive. That is what he is," Jones said. "That is not why we lost tonight. We did not compete for forty minutes."
The lack of energy in Agganis for the Terriers, as noted by Jones several times after the game, proved costly against a capable Bucknell team that Jones said he does not take lightly.
"They're [Bucknell] so well coached, disciplined, the ability to execute, their timing and precision was outstanding," Jones said. "They are going to be right there at the end of the day at the top of the league."