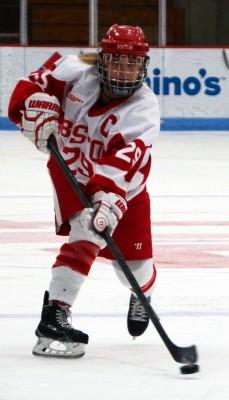 After a disappointing finish in the semifinal of the 37th Annual Women's Beanpot Tournament on Tuesday, the No. 6/7 Boston University women's hockey team will travel to the University of New Hampshire for the teams' third meeting of the season before playing in Monday's Beanpot consolation game.
The Terriers (17-7-2, 12-4-0 Hockey East) had difficulty finding their offensive power in Tuesday's game, falling to Harvard University 9-2. After jumping on the scoreboard just 34 seconds into the first period, the Crimson (16-4-2) maintained the lead for the remainder of the game. BU was only able to fire 14 shots on goal throughout the entirety of the contest, while allowing 32 shots.
"There's days in between, so you've got to pick up the pieces and now hopefully have a good couple of practices," said BU coach Brian Durocher. "It was one of those nights when Harvard played outstanding hockey, and they were the better team in every area. Some of that was due to their ability, and some of that was due to the fact that I'm not sure we competed as hard as we had to."
After a 5-0 deficit in the second period, junior forward Sarah Lefort was able to break the Crimson's shutout, tallying a goal after a turnover in the offensive zone. Unfortunately, it was not enough to help the Terriers find their groove. Freshman forward Victoria Bach was the other goal-scorer of the night, recording her 15th of the season, the highest of all NCAA rookies this season. Senior captain Marie-Philip Poulin registered two points during the game, making it her third consecutive multi-point game. For her efforts, Poulin was named Hockey East Player of the Month on Thursday.
"She continues to be a fantastic leader," Durocher said. "There's no better example than the other night when she blocked three, if not four, shots in a row and continues to sacrifice for our team. She's a great leader, and it's a wonderful recognition for her. We're awful happy to have a kid like her leading our team."
Sophomore goaltender Victoria Hanson made 14 saves after two periods, but relinquished the net to freshman net minder Erin O'Neil for the duration of the third period. Both goalies struggled, allowing a total of nine goals on 32 shots.
This weekend will serve as a nice break for the Terriers, as they have had much success against their upcoming conference opponent this season. BU played the Wildcats (8-18-1, 5-10-0 Hockey East) twice in November, with the Terriers coming out on top both times. Since then, however, UNH has improved, winning four of its last six games.
"There's differences in a rink," Durocher said. "You play here at a rink that's 200 by 285 feet wide, and you go up there, and there's an extra 15 feet. You really have to be aware from that in everything that you do. You can't circle away from the puck as far, and you probably don't go as aggressively to the corners defending because there's more room for a kid to outskate you back to the net."
Sophomore forward Jonna Curtis has a team-leading 11 goals this season, followed by freshman Amy Boucher, with six. In their last five games, the Wildcats have averaged 2 goals per game. Junior goaltender Vilma Vaattovaara has played for the majority of the contests and has a .902 save percentage.
"UNH has been a good team, and one that we're going to have to make sure we play well in front of both nets," Durocher said. "We have to make good changes, and again don't get mesmerized by the side of the rink because there's an awful lot of times where that can happen. We have to make sure to bring our focus and try to get back on the winning side."