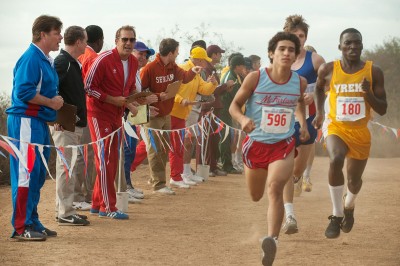 The film "McFarland, USA" tells the true story of track coach Jim White (Kevin Costner), a newcomer to the agricultural town of McFarland in California's Central Valley. Though initially hired as McFarland High School's football coach, White sees enough potential in his students to start the school's first cross country team. Throughout the year, White leads the team through all manners of familial responsibilities and racial conflicts. And while this premise may seem familiar, Costner and the real-life White want viewers to know that "McFarland" is far from the usual sports drama.
"I think when you want to make a movie that has to do with sports, one of the keys is to not make it too much about the sport," Costner said in a conference call interview with The Daily Free Press on Saturday. "It has to be the backdrop. It's what gets said to people when they're not actually performing that really becomes most interesting."
Costner especially emphasized that "McFarland" focuses more on the relationship between the coach and his athletes, along with the overall process of building a strong team, rather than the sport itself. He lauded White for his ability to coach adolescents who come from difficult backgrounds.
"Coaching is about the big picture, which is how they [the athletes] are going to be seen as men," Costner said. "While it couldn't have been pleasant for Jim, there were probably moments where he had to risk his teams by telling them they're wrong, by disciplining them. I think that one thing that maybe gets lost in this is that a coach is just another word for an educator. So I thought it was important to be a part of this movie."
For White, back in 1987, that job meant getting the hard work mentality to rub off on his runners.
"You're building a team," he said. "You're not building an individual … they have to encourage their whole team to do it [work hard] because that's the only way they're going to get rewarded. I look for things like that in young people. If you can get somebody that has that instinct built into them, that they want to succeed, then you take it and go from there."
White said Costner did an exceptional job portraying the love and dedication that the coach felt toward his work with the kids. He was able to watch parts of the filming and said he felt as though Costner was perfectly cast for the role.
"I didn't have direct contact with him, per se, in meeting with him and trying to say, 'No, I didn't do that,'" White said. "I didn't have to. He picked up my feelings and my true love for the kids through articles. And I was very appreciative of that because he turned it around and got it written the right way … He [Costner] truly showed a love for the kids and a love for the town and the community. You're going to get that feeling when you see it [the film], and that's a wonderful feeling."
That love comes through in Costner's fond words for the McFarland community. Although the film mainly focuses on White's family and the athletes themselves, Costner recognized the hard work that the older generation of the town put into helping their children move forward in life. He said one of the greatest takeaways from the film is the caring relationship between the athletes and their families.
"They're simply working there … through very difficult weather conditions for every day of their lives for one reason and one reason only — to advance their children and to give their children a better opportunity," Costner said.
In Costner's eyes, "McFarland" represents a microcosm of a much bigger national community.
"At its very core, this is not a movie about running, and it's not about cross country. This movie is really about the American dream. And the American dream in McFarland is alive and well," Costner said. "There is nothing more American than a parent trying to make life better for their children."
"McFarland, USA" opens in theaters Feb. 20.