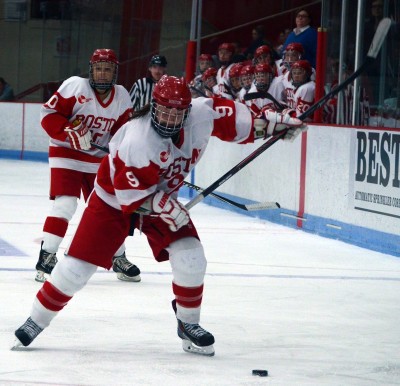 The No. 6 Boston University women's hockey team ended the weekend with its fourth win in a row and a series sweep against Providence College.
Saturday's matinee against the Friars (6-21-4, 5-13-1 Hockey East) featured an offensively hot Terrier (21-7-2, 15-4-0 Hockey East) squad, who traveled to Providence, Rhode Island for the first game of the long weekend.
Just after the first frame, BU had a 2-0 lead over the Friars thanks to a goal each from freshman forwards Rebecca Leslie and Victoria Bach. Junior forward Sarah Lefort had her first goal of the night 3:15 into the second period on a wrist shot from between the circles. She would strike again twice more in the third period, the first on a 3-on-1 with senior forward Marie-Philip Poulin and junior forward Kayla Tutino. Less than two minutes later, she tallied on a power-play shot from Bach.
To end the scoring, Poulin had the final goal of the game on a rebound shot from none other than Lefort, who completed a four-point night that tied her season high. Freshman goaltender Erin O'Neil made 27 saves after three periods, leading to her ninth win of the season.
"I know how competitive Providence is, and they're a proud team and they play hard," said BU coach Brian Durocher. "I was hoping that if we could get a bit of a lead, we could discourage them and give ourselves a pretty good chance here tonight."
A similar type of game would take place just two days later for the finale of the home-and-home series on Monday night. Continuing the momentum from Saturday's contest, the Terriers once again brought their offensive push, occupying the opposing zone for the majority of the period, despite the shots being even at eight apiece. It would be BU who struck first, opening the scoring with a goal by Lefort on a shot between the legs of Friar goaltender Allie Morse from a pass across the net by Tutino.
After a penalty was called on Providence freshman Blair Parent for cross checking, the Terriers were able to double their score on a power-play goal from Lefort on a shot from the high slot, which slipped between the legs of Morse.
"I don't think we played our best period in the first period, but we got a 2-0 lead, which certainly put us in a nice position," Durocher said.
Both teams brought an aggressive presence to the game on Monday, as each squad received a total of 13 penalties after three periods. At the start of the second period, a delayed penalty for Parent resulted in a BU goal from sophomore forward Samantha Sutherland, who put in the rebound on the original blue line shot by senior defenseman Shannon Stoneburgh.
Parent went on to receive a game misconduct after for hitting from behind, and an additional five-minute major was served by defenseman Ariana Buxman. BU would score another power-play goal on a kneeing penalty against Friar defenseman Lauren Klein. Tutino got her ninth goal of the season on a top-shelf shot from in front of the net.
"It's just trying to capitalize on the small moments, like on the power play and just going hard to the net and tapping in those rebounds," Lefort said.
In the third period, it was BU who would receive the second game misconduct of the contest this time. Sophomore center Maddie Elia was called for a hit from behind, and the five-minute major was served by sophomore forward Natalie Flynn. However, it would not drag the Terriers down, as they killed off the penalty and scored minutes later on Lefort's sixth career hat trick, and second in as many games.
"Having the goal production from some different people was nice," Durocher said. "It was certainly a great weekend for Sarah Lefort to have two hat tricks on the weekend. We were all waiting for [Lefort] to break out a little bit, because she's had chances, and she's a great shooter."
The Terriers tallied twice more before finishing the scoring shortly after Providence made a goalie change, switching Morse out for sophomore Alanna Serviss. Bach and Leslie scored twice on Serviss, and Providence robbed sophomore netminder Victoria Hanson of her shutout bid on a shot deflected from Friar freshman Brooke Boquist. Hanson finished the night with 23 saves, including one coming from a 3-on-1 for Providence a little over halfway through the third period.
"We knew it was going to be aggressive after last game," Lefort said, "but I think we kept our head on our shoulders and tried to keep it cool out there and just play our game."