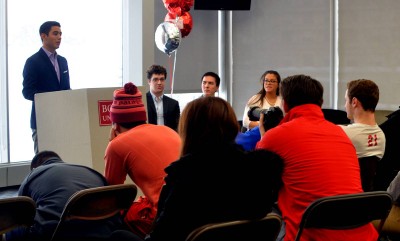 Following their announcement of intention to run for Boston University Student Government executive board positions, members of the Team BU slate face complaints for violating campaign codes established by the Student Election Commission.
Five complaints were filed on Feb. 12 against slate members Austin Kruger, Gabi Medeiros, Matt Sgrignari and Tim Geraghty regarding their Feb. 9 announcement, their use of social media for promotion and their willingness to speak to The Daily Free Press following their campaign announcement. The offenses in question come in direct violation of the SEC's code to not utilize "physical and/or electronic media" until the campaign period, the complaint stated.
"Our main function is to provide [an] environment for fun and fair elections to take place,as well as to get as many students as possible to vote. We do this in two ways. We host a variety of events for campaigns and students alike to try and increase awareness of elections as well [as] rule on violations that may occur at [any] point during the election cycle," SEC Chair Spencer Hilton, a junior in the School of Management, wrote in an email.
Campaigning of any sort is restricted to the designated campaigning period, according to SEC election code. Discussion "done in an official capacity," promotion through social media and media coverage violate the campaign code.
On Feb. 9, Team BU spoke to a crowd of approximately 50 students in the Eilberg Lounge in West Campus about goals for making SG more open and establishing a sense of community, The Daily Free Press reported.
Kruger, a senator for the Student-Athlete Advisory Committee, plans to run for Executive Board President and said the rules for campaigning were not clearly communicated.
"If we were better aware of the rules, we would have definitely followed all of them," said Kruger, a junior in SMG. "SEC doesn't know where its jurisdiction can end. I'm not so sure it's a great idea for the SEC to have censorship power over private Facebook groups and articles printed by media outlets about the election. We believe that students' rights to speech is essential and must prevail against rules that would suppress it."
Kruger said when Senate members voted to elect Hilton, Kruger asked whether posting on a personal Facebook account would still be a code violation under the SEC's social media policy.
"We got to ask questions to those running, and I asked Spencer Hilton before he ran if social media and posting on your personal Facebook would change and he said yes," he said. "This was a week before we announced [our campaign]."
Though the complaints state that SEC will not rule on the violation until campaigning begins, Kruger said he communicated with SEC over email and reached an agreement.
"An agreement was reached whereby we only receive a warning instead of a violation due to these communication errors, and being so far ahead of their election timeline," he said. "For us, it's not as big of a deal as it seems."
John Battaglino, assistant dean of students and director of student activities, said he serves as an advisor to SEC and makes sure that the commission stays on task.
"I always try to caution the Student Elections Commission about rules because you have to enforce [them]," he said. "What you want to try to do is trying to make sure that students' voices are heard, and to be too punitive in their role would undermine what they're trying to do. It's a student group, so they determine what their rules are."
Priscilla Cheng, a College of Arts and Sciences senator, is a member of SG's Election Oversight Committee. The committee's purpose is to promote transparency between SG and SEC.
"We just want to inform people of what is going on behind the doors," said Cheng, a freshman in CAS. "We do respect that they have their secrecy policy, but we do not want them to keep everything away from us. We want them to at least connect with us so we know what's happening. The student government has a say in the elections because we're overseeing it. It shouldn't be right that they get all the say in it."
In regard to the complaints filed against Team BU, Cheng said SEC should have recognized the difference between promotion and campaigning.
"There's this issue of promotion versus campaigning that came up, and we had to redefine that because what he was doing was not really campaigning," she said. "It was more of a promotion among friends. It was basically talking to friends. It was not an official event. He was more like, 'Here is what I think I should do. What do you guys think?'"
Kruger said he hopes SEC will make more of an effort to clarify the campaign process and rules to encourage more participation.
"There are senators I know who are interested in running," he said. "People aren't going to know how to go about running. As a senator who's running, I would like to have more competition because that means that more people are getting involved."