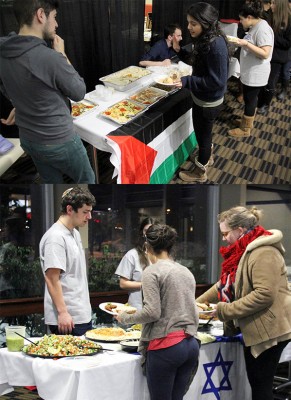 In an effort to raise awareness and promote education about the conflicts in the Middle East, two student groups at Boston University hosted weeklong opportunities for students to get involved.
Israel Peace Week, hosted by BU Students for Israel, and Israel Apartheid Week, hosted by BU Students for Justice in Palestine, began last week, on Feb. 25 and Feb. 23, respectively. Israel Peace Week runs through Thursday and Israel Apartheid Week will continue until Friday, according to each event's Facebook page.
Daniel Hochberg, president of BUSI, said the two groups do not have much conflict, but the political nature of the situation may still lead to disagreements on campus.
"Putting the SJP group and the Israel group in the same arena, it's good for news, but the two clubs aren't really in the same boat," said Hochberg, a junior in the School of Management. "In the grand scheme of things, it's a constant political issue, and on campus it's obviously different."
Jose Godoy, an activist in BUSJP, said the group's weekly plans were not intended to "counter" those planned by BUSI.
"There [hasn't] been any friction really, but there has been some discussions in the public pages sometimes like normal discussions about the conflict that are pretty independent from the groups," said Godoy, a sophomore in SMG. "We're all tackling the same situation from different perspectives. [It] doesn't necessarily mean that one or the other is wrong."
Both awareness weeks feature lectures, films and cultural gatherings. Some of the week's programming included a Shabbat dinner and a talk by an Israel Defense Forces reserve soldier, both planned by BUSI, and a movie screening and cultural performance night by BUSJP.
Hochberg said it is very rare that both weeks coincide. He emphasized that the overlapping weeks did not stop BUSI from hosting the yearly affair.
"It's hard when we have really different constituencies," he said. "There's a very small amount of people that will say that they sympathize with both clubs."
Despite the separate programming, BUSI and BUSJP participated together in the second annual International Food Festival Tuesday in the George Sherman Union Back Court. Approximately 300 students attended the festival hosted by BUSI, which included cuisine from seven cultural groups on campus.
Godoy said when members from BUSI reached out to BUSJP about participating in the food festival, there was initially hesitation, but BUSJP decided it would be better to cooperate and attend.
"We're going to participate tomorrow [Tuesday] in the international food festival as a sign that we are also for peace and we're open to dialogue," Godoy said earlier in the week. "We are trying to promote dialogue within Jewish, Palestinians and other people working together to make this a better situation for everyone."
Several attendees said having BUSI and BUSJP together at the festival was commendable.
Henry McLaughlin, a member of BUSJP, said the group took several issues into consideration before choosing to join the food festival.
"We had a lot of debate amongst ourselves about the morality on doing this. Nobody here,
serving this food [at the food festival] is Palestinian. Probably because they feel it'd be
inappropriate to acknowledge, sort of validate Israel Peace Week," said McLaughlin, a senior in the College of Arts and Sciences. "We ultimately came to the decision that it would be better to promote ourselves than sit back and not be a part of this and not be recognized."
Daniel Traub, a member of BUSI and head organizer of the food festival, said BUSJP's presence aligns with BUSI's goal to promote peace.
"We couldn't be more excited to have them [BUSJP] here," said Traub, a senior in the Sargent College of Health and Rehabilitation Sciences. "Although we do kind of represent two ends of the political spectrum, we both want peace. We want to have co-existence between our two sides."
At BUSI's Wednesday panel regarding Arabs volunteering in the Israeli army, about 20 of the 50 attending students staged a walkout to express disagreement with the presentation.
Godoy, who attended the panel and watched the incident occur, said the walkout was not planned by BUSJP, but instead by a separate group of Palestinian students who invited BUSJP to participate. Godoy said BUSJP members declined the offer.
The students who participated in the walkout "stood up and left silently," and they went to the lobby to play pool, eat and talk, Godoy said. Godoy had to leave the panel early for a separate club meeting, he said.
"The girl and guy [who organized the event], they were not in SJP and communicated that they and some students were thinking about doing a walkout," he said. "There were a lot of Arabs interested in that and Palestinians who actually felt very threatened by the presence of these persons."
Hochberg, who oversaw Wednesday's panel, said though Godoy said BUSJP was not affiliated with the students who left the event, he witnessed Godoy participate in the walkout and felt the action set the wrong tone regardless.
"It wasn't polite," he said. "These are the exact same people we invited to the food festival, and so it's kind of ironic that we invite them to this and they proceed to come to my next event and totally sabotage it. It's sort of a double-edged sword."
Godoy said he was glad that the walkout was a peaceful one.
"I'm happy it happened without major incident," he said. "A lot could've gone wrong."
Hochberg said the panel had no intention to create conflict, but rather bring an issue to light.
"It's a tough issue because certain topics strike certain conversations with people, and it's hard to run events like these because people take real issue with it, but the event was not trying to take a jab at a population at BU," he said. "It was more to bring an issue to light."
BUSI will conclude their Israel Peace Week with a play Thursday night, and BUSJP will end Israel Apartheid Week with a panel also on Thursday night. One BUSJP panel, originally scheduled for this week, was postponed for March 24.
Despite some of the tension throughout the week, Godoy said that compared to 2014, the student body has been more open about Israel Apartheid Week.
"I want say that a year ago, it was very hard to do these activities without people getting ignorant and screaming about broad Islamaphobic words," he said. "I don't know how big it is, but there is a change and we're very happy about that … and we're working with a lot of groups to make this collective liberation in this campus to make it a better place for everyone to voice out whatever they want and to be a student and be an activist safely."
CORRECTION: A previous version of this article misquoted Godoy. The article has been updated to reflect this change.