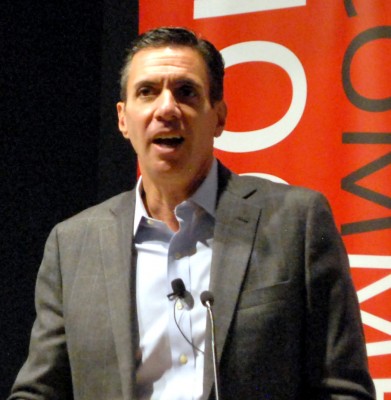 Mitchell Zuckoff, a New York Times bestseller, veteran journalist and a professor in Boston University's College of Communication, was named the first Sumner N. Redstone Professor of Narrative Studies for his extensive work in narrative journalism.
"I'm truly honored. I feel like this is really the highlight of my career," Zuckoff said. "It gives me a platform to do what I love to do, which is talk about the practice of narrative, nonfiction narrative particularly. I have dedicated my career towards telling true stories, and so the fact that Sumner N. Redstone values that craft to this level that I was considered appropriate to carry this torch, if you will, is truly an honor."
An announcement to COM faculty was made on Feb. 25, and the university-wide announcement was made Thursday in BU Today, said COM Dean Thomas Fiedler.
Endowed by Viacom and CBS chair Sumner Redstone, the professorship is valued at $2.5 million and will allow Zuckoff to put an emphasis on narrative nonfiction journalism, Fiedler said. The nature of the endowment meant that a BU faculty member had to be chosen for the professorship.
"The question was who do we have in the College of Communication who fits the profile of the kind of person we want to designate?" he said. "It wasn't a long discussion because Mitch Zuckoff's name came up without any prompting by everyone saying … obviously the person we have on our faculty who does everything that we could hope a professor of narrative studies would do is Mitch Zuckoff. It was really that simple."
The professorship was created in May 2014 by Redstone, who was a former BU School of Law faculty member and sponsors the annual Redstone Film Festival, The Daily Free Press reported on May 13, 2014.
Zuckoff said although he is still "figuring it out," he plans to teach a class separate from the narrative journalism course offered in COM, become more involved in the annual narrative conference and collaborate with other schools at BU.
"It's going to be exciting to reach out to students that normally don't talk with each other as much as they should," he said. "The great thing about a university like BU, to me, is that we have so many different disciplines, and we can all learn from each other. We have to get outside of our individual colleges and get to know each other. I sort of see this as a passport [to other schools.]"
Fiedler said he hopes the professorship will draw positive attention to COM and BU, as well as focus on the craft of storytelling.
"It's about narrative itself why we're really excited about putting a real spotlight on what Professor Zuckoff can do," he said. "The study of narrative storytelling, as old as that is [and] as old as stories are, has actually become one of the hot news subjects that is being talked about by scholars and people who are involved in that field now … People retain information much more efficiently when they get that information in a narrative form."
Several students agreed that an increased emphasis on narrative studies can benefit the BU community.
Danny Gaylord, a junior in COM studying film and television, said a professorship dedicated to narrative studies can increase the "caliber of students" and work in fields beyond journalism.
"Narrative journalism is a big part because half the fraction of filmmaking, documentaries, which I also want to go into, is kind of journalism itself," he said. "Without the film medium, documentaries, with the popularity they have, they couldn't, wouldn't be where they were today because of journalists."
Katherine Maningas, a freshman in CAS who plans to minor in public relations, said learning how to tell stories is important for communication.
"We were just learning about this the other day … how important it is to have your own voice and to be narrative but also informative," she said. "It would definitely help kids in journalism learn that and find their voice early on."