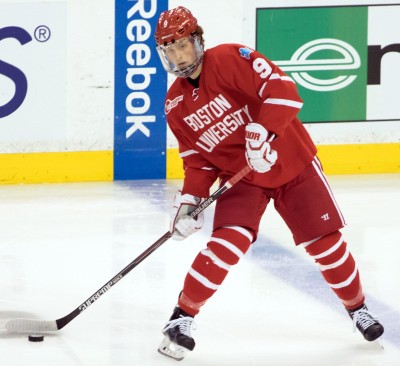 There were no games to be played for the No. 3 Boston University men's hockey team at this time last year. The Terriers were bounced from the Hockey East playoffs in one game by the University of Notre Dame, which ended a forgettable 10-win season.
When he comes to think of it, BU head coach David Quinn can't even recall the season taking place.
"Did we have hockey last year?" Quinn asked jokingly with a wry smile.
Fast forward 365 days, and there's a lot for Quinn to smile about, and more importantly, still hockey to be played for BU (23-7-5, 14-5-3 Hockey East). Already with two titles to show for this season, the Terriers have a chance at a third this weekend when they play for the Hockey East Tournament championship at TD Garden.
BU will first have to get past the University of New Hampshire in Friday night's semifinal game to have any shot at the title game and raising the conference banner. And that's all Quinn and his team has their minds set on right now. Looking back on how much the team has improved in a year's time hasn't exactly been priority number one for the second-year head coach.
"I really haven't thought about last year to be quite honest," Quinn said. "Just so caught up in what we're doing right now and season now and the success we've had and the opportunities we have in front of us here."
Although a young team, the Terriers do have the experience of playing in big games already this season. They've played in and won the Beanpot, which happened to take place where the Terriers will play this weekend. Those two games, according to Quinn, provided his team invaluable lessons.
"It's huge because I thought in that first game [of the Beanpot] against Harvard [University], we were very nervous," Quinn said. "We didn't start playing well until probably halfway through the second. And then in the Beanpot, we had a terrible first period final against Northeastern [University], and then we played much better after that. There was such a big gap between the two Beanpot games, I think we had to re-learn what happened.
"We're in a much better state right now — been there, done that, won there."
To get to this point in the postseason, the Terriers first had to win a best-of-three quarterfinal series with Merrimack College. BU quickly dispatched the Warriors (16-18-4, 5-14-3 Hockey East) in a two-game sweep. Freshman forward Jack Eichel ended the series with six points (two goals and four assists), en route to his second Hockey East Player of the Week award this season.
Despite running into a red-hot goalie in Rasmus Tirronen (.929 save percentage), the Terriers outscored Merrimack 11-2 in the series. Stymied at times, BU still remained true to its game plan, and things worked out just fine.
The Wildcats, who entered the tournament as the eighth seed, have been on a roll since early February. They've won nine of their last 10 games, including a 2-1 overtime thriller in the final game of the quarterfinals over second-seeded Providence College.
Forwards Tyler Kelleher and Grayson Downing have been strong down the stretch with their scoring, but the big key to this late-season resurgence for New Hampshire has been the play of netminder Daniel Tirone.
The freshman made 45 saves in UNH's first win of the tournament, and 105 total in the second round of the tournament. Since taking the starting role over classmate Adam Clark, Tirone has been nothing short of stellar. In 19 games, he has a .925 save percentage, fourth-best among qualified goalies in Hockey East. Tirone is 1-1 against BU, the latter game being a 4-3 victory on Feb. 14.
The Terriers will again draw upon not-so-long-ago experiences when it comes to playing against a strong backstop. In the end, it's all about concentrating on the game at hand and not ones in the near future.
"Well, if we didn't get frustrated last weekend, I don't think we'll get frustrated this weekend, either," Quinn said. "It's not only with the goaltending but with style of play.
"We've got to focus on New Hampshire, and we've got to win another hockey game. We've done a good job of that, staying in the now and focusing on New Hampshire and doing all the things we need to do to care of our responsibilities leading into Friday night to put ourselves in a position to win another championship."