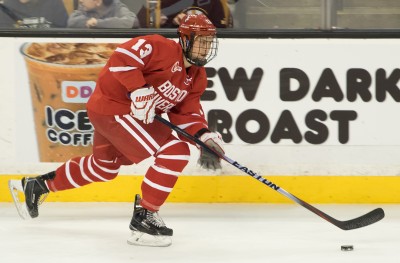 On a 2014-15 Boston University men's hockey team that values grit, flash and depth, freshman forward Nikolas Olsson has asserted himself as a jack-of-all-trades commodity.
The Escondido, California native has proven to be a valuable member of a loaded freshman class, compiling 10 points (five goals, five assists) in 26 games while establishing a physical presence out on the ice (43 penalty minutes).
With just a few days remaining until the Terriers' Hockey East Tournament semifinal showdown against the University of New Hampshire, Olsson talked with The Daily Free Press about the 2014-15 campaign, emojis, Chipotle and more.
The Daily Free Press: What has been your favorite memory of the season so far?
Nikolas Olsson: So far, probably the Beanpot. That was a pretty eye-opening experience. I mean, with all the big crowd, big rink, student sections going back and forth, especially winning in the fashion that we won was really fun. It was really exciting.
FreeP: If you had to describe your style of play in one word, what would it be and why?
NO: Physical … Try to make a skill play here and there, but mainly just do the right things and play simple and play hard.
FreeP: Do you have any pre-game superstitions?
NO: Not really. I don't really like to have too many superstitions because I feel like if you have a superstition and you don't get that one done, then it might be in your head that you'll play badly, so I try to not have any at all. I guess other than right skate first, pretty simple.
FreeP: Who are the worst dressed players on the team?
NO: [Freshman forward] J.J. Piccinich has some interesting style. He's got sweats on a lot, same with [freshman defenseman] Brandon Fortunato. They wear a lot of sweatpants. So maybe them, but it all depends on what style you're into.
FreeP: Favorite show to binge-watch on Netflix?
NO: Probably "Prison Break," "Family Guy" [and "Californication."]
FreeP: Favorite NHL Player?
NO: [Anaheim Ducks forward] Ryan Getzlaf. He's a big power forward with a lot of skill. I'm a huge Anaheim Ducks fan, so growing up watching that. He just does everything. I like watching him play."
FreeP: Who is your favorite Toy Story character?
NO: I'd probably have to go with Buzz Lightyear, just because of the name. It's a cool name.
FreeP: Did you fill out a March Madness bracket? If so, who did you pick to win it all?
NO: I did not fill out a March Madness bracket, nor am I going to. I'm not really a big basketball guy, but I think [the University of] Kentucky is the one that's doing well, so we'll just go with the generic answer. Kentucky.
FreeP: What's your go-to order at Chipotle?
NO: Oof. Chicken and steak burrito. Extra meat and guacamole.
FreeP: What played into your decision to wear #13 here?
NO: Really, it was just that a few numbers were given to me, and I had to choose one. Number 13 seemed pretty cool, and I'd never worn it before, so I just figured, 'Why not?'
FreeP: What do you miss the most about home?
NO: [Laughs] Sunshine. Sunshine and warmth. The ability to wear a bathing suit and flip-flops in December and January. It's pretty nice.
FreeP: What's your biggest fear?
NO: Probably spiders. Just because they can creep down from just about anywhere and get ya.
FreeP: Who's the celebrity that you would most want to get a selfie with?
NO: Probably Anna Kendrick. She's a cutie.
FreeP: What's your favorite arena that you've played in this season that's not Agganis Arena?
NO: [Conte Forum at] Boston College had a really cool atmosphere. In our first game there, the microphone went out during the national anthem, and the entire fan base just sang the national anthem. That was pretty sweet.
FreeP: What's your favorite emoji?
NO: My favorite emoji has to be the little smirk emoji. It's pretty standard.
FreeP: Who on the team has the best celly?
NO: [Senior assistant captain] Evan Rodrigues has some pretty solid celebrations. I gotta give that to him.
FreeP: Who on the team has the best singing voice?
NO: I'm going to go with [freshman forward] A.J. Greer. He raps really well. I don't know about the voice, but he gets it done.
FreeP: What song would you pick to be the theme song of your life?
NO: "Buzzin" by Shwayze.
FreeP: What's the biggest key to a successful weekend for the Terriers in the Hockey East semifinal, and if you make it, the final?
NO: Just playing consistently and playing hard. We won't have to battle with the whole aspect to adapting to bigger ice. That might help, and just doing the little things right. Don't be tricked by their standing and their rankings. Don't take them lightly.