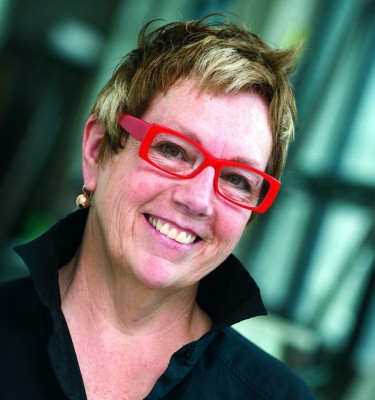 Lynne Allen, director of the School of Visual Arts at Boston University's College of Fine Arts, will take over as interim dean of CFA on May 18 until a permanent dean is selected to fill the position, Provost Jean Morrison recently announced, according to a Thursday BU Today article.
Allen said although she is a bit nervous, she looks forward to beginning her new role.
"The job is much more involved than my current position and I will have to learn a lot, and listen just as much," she wrote in an email.
Morrison said Allen has the skills necessary to perform well in this new position.
"She's a very experienced and thoughtful leader who knows not only the College of Fine Arts but also the university context in which the arts exist," she said. "Lynne was the right person for the job at this moment, and both [BU President Robert Brown] and I are just delighted that she agreed to do it."
Benjamín Juárez, who has served as dean of CFA since 2010, announced his departure in October and will leave at the end of the academic year, The Daily Free Press reported on Oct. 7, 2014.
"Dean Juárez has made many wonderful things happen at CFA, most importantly the Arts Leadership minor, and I feel it is important to be as focused on our students' futures as he has been," Allen said. "There are many positive things to build upon at CFA and the challenge is exciting, if not a bit daunting."
Allen said she looks to continue to further the progress made by Juárez.
"The College of Fine Arts has incredible talent, both students and faculty, and the goal is to work together to fashion a vision for the entire college moving forward," she said. "The Arts are the bedrock of culture in general, and I believe CFA has a place in a major research university such as BU, and also within our community."
Julie Sandell, the associate provost for faculty affairs, said she is confident in Allen's ability to help the students and faculty develop holistic goals for the future of CFA.
"She has a great track record of working with students, faculty and university leadership, so she is a natural choice to lead the school during this period of self-reflection, assessment and planning," she said. "I am confident that Lynne Allen will help the students, faculty and staff develop a holistic understanding of the goals for the school, and how it can thrive as a unique piece of the fabric of BU into the future."
Morrison said Allen will help lead CFA's effort in planning how to move forward before the school begins its search for a permanent dean.
"It's not clear how long that's going to take," she said. "That effort could take a year, could take three months. We don't really know. We certainly won't launch the search until the taskforce has come back with recommendations and we've had the chance to discuss those recommendations with the faculty and the leadership."
Several CFA students said they are looking forward to Allen's time as dean and are interested to see how she will help the college in the long run.
Emma Ledlanc-Nedeiros, a senior in CFA, said students want a dean who prioritizes student needs.
"Lynne has definitely done that for us here in the SVA [School of Visual Arts], and I'm kind of excited that she's going be in charge of all of CFA now because I think sometimes we're kind of forgotten up here: in terms of budget," she said.
Nick Tariello, a graduate student in CFA, said a more diverse curriculum could better help students explore specific interests.
"Just trying to implement something more for starting musicians, such as working through the business end of music, like starting your own group, that's not commonly something that is addressed," he said. "A dean needs to look for more opportunities to implement that [and] instruction on that."
Courtney Teixeira, a senior in CFA, said she would like to see more integration between the three schools within CFA.
"There is such a disconnect between Visual, Theater and Music," she said. "Here at CFA especially, there is not much communication between them, so ideally, I would like a dean that would treat the school as a whole, not just three separate schools with separate messages and separate goals. Pushing integration between the three should be crucial in making a good university."
Anush Swaminathan contributed to the reporting of this article.