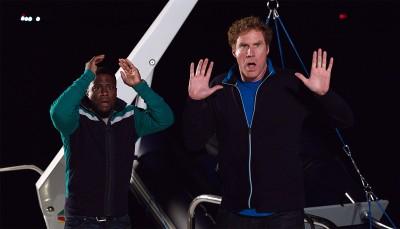 A little over one-and-a-half-million men and women lived in American state and federal prisons at the end of 2013. This statistic includes almost 3 percent of the country's black males and just 0.5 percent of its white males. In 2011 and 2012, 4 percent of U.S. prisoners reported having been sexually abused while imprisoned. In those same years, 6,704 of U.S. prisoners died in state prisons, while the U.S. Bureau of Justice Statistics has no data on how many prisoners died in federal prisons.
"I don't think there are any misconceptions about prison, because we have so much information out there," said Will Ferrell in a conference call with The Daily Free Press. "The misconception would be that there's any nice part of prison."
As they say, if you can't laugh about it…
Ferrell, along with Kevin Hart, stars in the new film "Get Hard," which will be released Friday. As such, they've been thinking a lot about prison, something not necessarily becoming for comedians.
"I, unfortunately, don't feel any more qualified or any more confident that I would survive in prison. So my best strategy would be to not go," Ferrell said. "I would just have to act crazy to keep people away from me, but they've seen that before."
In the film, Ferrell's character is a shady hedge-fund-manager-cum-white-collar-criminal, sentenced to 10 years behind bars. Forced to trade his leather massage chair and future with Alison Brie for what he can only assume is a decade of watching his back, he turns to his — incidentally straight-laced — car-washer (Hart) to help him steel up for the stint. "Statistically, you definitely went to prison," he reasons his employee. No, he didn't. Yes, it's a statement.
Either way, it's an unexpected sort of heavy, especially compared to Ferrell's frat-pack filmography and Hart's perpetual "feed" work. The film itself comes from pretty benign comedy roots. First-time director Etan Cohen did his time already as a writer, on films such as "Tropic Thunder" and shows such as "King of the Hill." He's new to the job, but not to the work.
"I think he's just, in town, kind of on the short list of one of those guys who was next in line to direct a feature. When you talk to him about a script, in terms of his articulation on story, you could just tell he sounded like he was a director," Ferrell said. "He was allowed to do what his strong point is, which is monitoring the comedy."
Hart agreed, adding, "We got lucky."
To Ferrell and Hart, working with a known quantity like Cohen ensures that "Get Hard" is funny first and moralistic dead last, with a lot in between. They do their part, too. Take, for example, their diligent preparation.
"I watched a lot of 'M.A.S.K. and 'Sanford and Son', which kind of put me in a position to where I was ready to come to set every day and not only work, but bring something to the table," Hart said. "And I don't know the last time you watched 'M.A.S.K.,' but that's a show."
Ferrell, for his part, wasn't nearly as ambitious.
"I watched a lot of shows on the Cooking Channel. It didn't help me at all," he said. "In fact, it totally was a waste of time, and if I had to do it over again, I wouldn't have watched those shows."
There's something about the way Ferrell and Hart seem to agree not to read into those themes more that speaks louder than the themes themselves. That's not to say that they're ignorant of them, not even close. "Get Hard," they argue, knows exactly what it's in for, and owns it. After all, mass incarceration and racial profiling aren't laughing matters. Rather, the joke is on the people like Ferrell's character: the bigots, the privileged, the people who still don't get it.
"As we explore our differences, once you kind of get through the chatter, you realize how similar we all are," Ferrell said. "Through that examining through the filter of comedy, you're just able to point out how silly these attitudes are that seem to pop up from time to time."
"Well, I can't say it better than that," Hart said in agreement, just seriously enough.