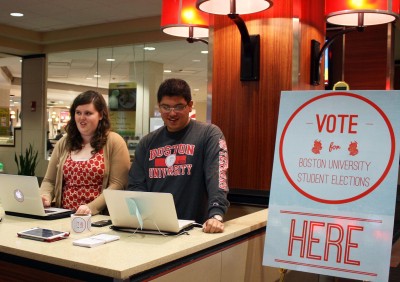 The three Boston University Student Government slates running for executive board have received eight complaints filed with the Student Elections Commission since campaigning began on March 23, adding to eight complaints that had been filed prior to the election period.
BUtiful Dreamers  has incurred 300 violation points, TeamBU has 200 violation points and True BU  has 50 violation points.
Noah McAskill, candidate for vice president of internal affairs, said SEC did not clearly explain the rules and requirements for campaigning.
"We thought it would be a lot simpler process than it is, and turns out it's this complicated and intricate process for the past two weeks. It's kind of upsetting just to think that they kind of expect you to take the swim," said McAskill, a junior in the Questrom School of Business. "[It] is kind of intimidating for people that aren't usually involved with SG to join the process."
Executive President candidate Nicole Simons and Vice President of Finance candidate Joshua Lee were absent from the mandatory election kickoff on March 23, and Executive Vice President candidate Barron Roth was absent from the slate speech reception later in the evening, according to complaints filed against them on March 23 and on Wednesday. The absences resulted in a 300-point deduction, 100 for every absent slate member.
Simons, a junior in the College of Arts and Sciences, said the violation points are "ridiculous" and she shouldn't have been penalized for her absence due to "contagious strep throat." Lee, a junior in Questrom, said he had a large class presentation to complete, and Roth said he had a night class to attend.
Jasmine Miller, the vice chair of rules in SEC, said SEC members meet in person to review the complaints on a case-by-case basis to determine whether they violate the Student Election Code and how many points should be deducted.
Incurring a certain amount of violation points will result in losing campaign days, Miller said. The system, which was implemented during the 2014 SG elections, calculates how many points correlate to a day's worth of voting by taking the total number of votes for a slate and dividing it by 14, the total number of campaign days.
"It was put in place because previously, the only two ways to penalize slates were by removing actual days of campaigning or a monetary penalization," Miller, a junior in CAS, wrote in an email. "The second method we found unfair because then theoretically a slate could just buy itself votes, which we felt could be a very unfair advantage."
Miller said as campaigning has shifted more toward social media, the newer system is more apt to handle those complaints.
True BU received seven complaints and one cease and desist letter for using the True BU hashtag prior to the campaigning schedule and maintaining an active e-portfolio by Salma Yehia, a 2014 candidate for vice president of finance who ran on the 2014 True BU slate.
In one violation, SEC issued 50 violation points, using its discretionary clause to not award the full 200-point violation because the hashtag was "not found to be explicitly used for campaign purposes," a Thursday ruling stated.
Andrew Cho, True BU's presidential candidate, said he respects the SEC for "trying to be fair to the slate."
"The SEC just had to make a decision based on the scenario and the present situation is that there's no really a precedent for using True BU more than one campaign season," said Cho, a junior in CAS.
Five other complaints were filed in regard to campaign finances, booking a meeting space, taking a photo by Marsh Plaza and having a private Facebook event page before campaigning began, which after further investigation, was compliant to the rule.
Although SEC awarded no violation points due to "uniqueness of the situation," for using True BU's Facebook page from the previous election, the commission drafted the cease and desist letter for the slate to use the page because it causes a "disadvantage," the March 23 complaint stated.
"We're happy to comply with the cease and desist order," Cho said. "We just wish it would've been clear from the get-go, but honestly, we don't think that these are going to hinder us."
Miller said any student can file a complaint online and that the number of complaints per year seems to be on an upward trend.
"This year, despite the fact that we're only halfway through the actual campaign season, we've had nearly as many complaints as we had all of last year," she said. "There might be more complaints because we have more slates, but there's no way to know for sure."
In the 2014 SG election, there were a total of 18 complaints, The Daily Free Press reported on April 9, 2014.
TeamBU received six complaints, two of which were appealed, resulting in a 200-point loss from an initial 500-point deduction.
Austin Kruger, the slate's executive president candidate, said the violations, which included a Feb. 8 meeting held at Eilberg Lounge and a private Facebook page created prior to campaigning, were a result of miscommunication.
"It was just a miscommunication with the SEC. The SEC didn't clarify its rules correctly, and it made it seem like the rules weren't finalized," said Kruger, a junior in Questrom.
TeamBU also had a complaint filed against them for speaking to the FreeP prior to election week, but they were found not in violation because verbal discussion of candidates and campaigning are allowed.
Matt Sgrignari, the executive vice president candidate from TeamBU, said it has been difficult trying to make sense of SEC's rules.
"For someone who's not familiar with SG, it kind of handcuffs me at times," said Sgrignari, a sophomore in Questrom. "It kind of feels arbitrary the way they [the SEC] distinguish what is and what's not allowed."