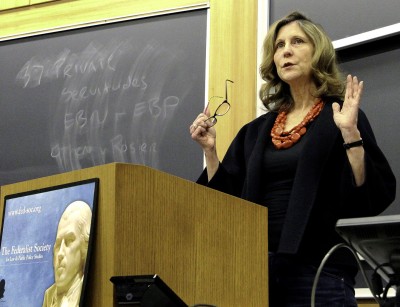 In light of outspoken feminist Christina Hoff Sommers' recent book, "Freedom Feminism: Its Surprising History and Why It Matters Today," Boston University's Federalist Society for Law and Public Policy Studies and Women's Law Association co-hosted a panel Monday that explored the future of feminism. It featured Sommers, known for her published works on feminist theory, and BU Law Professor Linda McClain as they both gave their views on present-day feminism and how it should move forward in a gendered society.
"I'm here to argue that it is time to reform feminism," Sommers said in her opening. "If you ask Americans if [they] are feminist, you're lucky to get 25 percent to agree. There's this new school called 'freedom feminism' that provides a path in today's iced gender wars, leading to a far more just and happier world."
Sommers defined her Freedom Feminism as "the moral, social, legal equality" between men and women. It is composed of two movements within feminist theory: egalitarian and maternal. Egalitarian feminism sees women as independent agents, while maternal feminism focuses on expanding and strengthening the traditional roles of women.
Feminism as a whole, Sommers argued, has largely been misunderstood. Many assume feminism is synonymous with the hatred of men, rather than the social, political and economic equality of the sexes.
"One point is that feminist theory, for the most part, believes that men have a say in feminism," McClain said during the panel. "You have Emma Watson's 'He for She' campaign. But, for the most part, [it is] because gender stereotypes hold men back and constrain them as well."
Additionally, McClain said, this as well as the stigma associated with feminism possibly discourages many people from calling themselves feminists.
"I think that more and more young women need to inform themselves about what feminism is and what it says," said Carrie Preston, an English professor in the College of Arts and Sciences and director of BU's women's, gender and sexuality studies program.
"In fact, not just young women. I think our entire culture and society needs to inform themselves about what feminism is and what it actually claims."
Jess Klein, a junior in CAS and president of BU's feminist organization, FemCo, also said there's a stigma that surrounds the present-day concept of feminism.
"I think that there's that phrase, 'I'm not a feminist, I believe in equality for everyone,'" she said. "It's just so silly because that's what feminism is at its most basic level."
During the panel, Sommers addressed one of the most common examples illustrating gender equality issues in society — the wage gap between men and women in the workplace. However, she offered a different approach to addressing this issue.
"A way undergraduate women can change the wage gap is to change their major," Sommers said. "Of the college majors, naval architecture is 97 percent male. Early childhood education is 98 percent female, social work 88 percent female. There is a big difference in what they major in."
If more women were to change their majors from lower-paying jobs such as childhood education to higher-paying jobs like petroleum engineering, the wage gap would not be such an issue, Sommers said. McClain, however, pointed out a counterargument.
"Maternal feminists might say to [Sommers], instead of majoring in meteorological sciences, why is early childhood education so devalued in society?" she asked. "They would question society's values."
One of the recent issues brought forward during the panel deals with those who identify on the LGBTQA spectrum — outside of the gender binary — and their place in feminism.
"Historically, they left out a lot of people who fall underneath feminism," Klein said. "I think that feminism should take a broader approach to thinking about the world in terms of specifically looking at communities that have been ignored by the larger movement — queer and trans individuals, as well as women of color. I would like to see feminism broaden a lot more and reach a lot more people that way."
As for the future of feminism, it's complicated. Preston said the diversity of feminism makes it hard to see its future.
"It is remarkably diverse." Preston said. "I believe there's room for many perspectives and many goals in feminism."
Klein said feminism, as it is, excludes people.
"I would like to see feminism broaden a lot more and reach a lot more people that way," she said. "So that's what I hope feminism takes on."
On the other hand, Sommers maintains that feminism is in need of reform in the way of freedom feminism.
"Freedom feminism distinguishes itself from other forms that are dominant today in its commitment to fairness to both genders," Sommers said. "Anyone who cares will create a women's movement that resonates with both men and women."