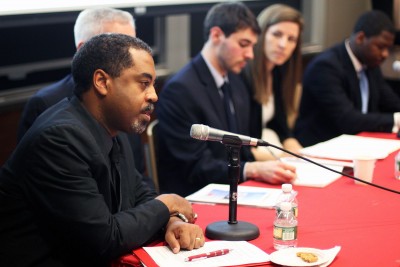 A group of community leaders and scholars spoke on a panel Tuesday at Boston University's School of Theology about the Voting Rights Act of 1965 and its link to mass incarceration.
The panel examines how the voting rights act conflicts with mass incarceration. The Act, signed by former U.S. President Lyndon B. Johnson, prohibits racial discrimination in voting.
"The impacts of mass incarceration are seemingly undoing the positive impacts of the Voting Rights Act, special thanks to the war on drugs," said Gina Physic, a graduate student in the Graduate School of Arts and Sciences who helped organize the panel.
About 50 students and faculty members attended the panel to hear different perspectives about the ways incarceration affects people and bars them from fully participating in society.
"I see mass in as a rather unprecedented and dramatic change in our usage of incarceration as social policy. The ways in which our country engages with incarceration has changed dramatically within the past 40 years. We have come to rely on incarceration as a way of dealing with a myriad of social issues that go well beyond crime," said Joe Barrett, the Massachusetts field manager at the Petey Greene Program, during the panel.
Phillipe Copeland, a professor at the School of Social Work, said there is a stigma around mass incarceration that affects how those people are treated.
"It's an interlocking social belief and value system that produces a caste system … a caste system is a system that locks stigmatized groups, where people perceive people to belong to such groups, into second class status in society through law and custom," he said during the panel.
People associated with criminal behavior are subject to violence and coercion because they are regarded as a threat to the rest of society, Copeland said.
Shelley Brown, a professor in the Sargent College of Health and Rehabilitation Sciences, said she has seen how incarcerated women with HIV don't always get the support they need after being released from prison.
"Every story, it was the same that immediately upon release, there was no connection to a social worker [or] to any form of therapy to support these women," she said during the panel. "It's crucial that every individual transitioning in that post-release period … it's even more crucial for women that are consistently marginalized their entire lives."
Rev. Willie Bodrick II, a pastor at Twelfth Baptist Church, said mass incarceration is a modern form of voter suppression. Slavery and Jim Crow laws once served the same purpose, he said.
"Those brothers and sisters are coming back from prison with criminal records and thus keeping them from voting," he said during the panel. "This happening marks, as I aforementioned, second class citizens and reaffirms a distressed system of justice and also regenerates forms of apathy that people have towards government."
Frank Carney, a professor in the Metropolitan College, said laws that strip the right to vote from those in prison or with criminal backgrounds are prevalent around the country.
"There's only two states that allow voting of incarcerated persons, and they're New England states, Vermont and Maine," he said during the panel. "Massachusetts was in that ballpark until about a decade ago when we had a constitutional amendment where the voters voted to deny the right to vote for anyone who's incarcerated for a felony."
Panelists also delved into how voter registration laws, law enforcement policies and mental impacts of incarceration on individuals and their families.
Several students said the panel was thought provoking and did a good job of exploring the effects of mass incarceration.
Noor Toraif, a junior in the College of Arts of Sciences, said she was recently introduced to the topic of mass incarceration and wanted to learn more.
"I am very interested in conversations about power and race relations and how incarceration and voting right relate," she said. "I wanted to learn about stats and stories, and the event did just that. They showed some very ridiculous statistics. Before, I had conservative views about prisons. This event caused a drastic change."
Laura Kakalecz, a senior in CAS, said she has worked with people in the prison system by processing mail.
"I'm interested in how cycles of incarceration affect generations and communities and how it is used as racial control and rested economic injustice," she said. "Ties created tonight are very important to civil right, how mass incarceration is an invisible force that goes unnoticed and contributes to so much inequity that exists. I appreciate intersectional perspective."