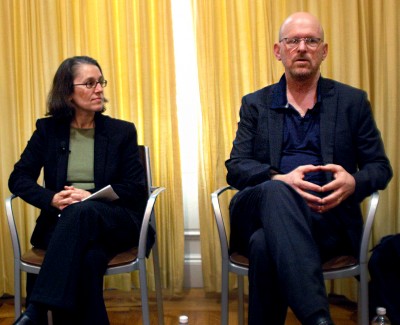 Arts experts from Boston University joined Rebecca Ostriker from The Boston Globe to speak on a panel Tuesday about urban culture and development for the Initiative on Cities' Urban Seminar Series "The Cultural City," the final presentation of the 2014-15 academic year.
The panelists talked about Boston's unique culture and challenges the city faces to become more cultural.
"There's this creation called culture that has the approval of a sort of class," said Merry White, a panelist and professor of anthropology in the College of Arts and Sciences. "If you're using big 'C' [culture], it's fine arts or the elevated arts … We are open to a wider range of designation of culture, and I think that's where that distinction will fall away. The small 'C' tends to be more regional cultures, personal or ethnic cultures."
About 30 BU professors, students and city residents attended the seminar held at 75 Bay State Road.
Ostriker, the arts editor at the Globe, said institutions like the Boston Symphony Orchestra and the Museum of Fine Arts face challenges to get more people involved.
"It's a real challenge because the split between high 'C' and low 'C,'" she said. "They're not getting younger and audiences and the kind they'd like to see. They're trying to do it, but a lot of it as to do with cost of entry and engrained patterns of cultural consumption."
Charles Merzbacher, also a panelist and a film professor in the College of Communication, said funding to sustain cultural institutions is necessary, but not to the point that it pushes artists out of town.
"Money is needed to support culture, and for that, you need industry and business, but gentrification can become a problem," he said. "Artists need to not always be working to afford the rent … We face that risk [here in Boston]."
Ostriker said it is difficult to predict how efforts from Boston Mayor Martin Walsh or Massachusetts Gov. Charlie Baker will affect arts and culture.
"There's a new mayor who has a new chief of arts and culture who is planning to lead an 18-month cultural planning process," she said. "From what I understand, it's going to be a whole lot of public meetings … about what the future of Boston's arts and culture scene should be, and there's a way to channel all of that feedback [into] a vision for the city's cultural future … I can't imagine how they're going to do that."
Merzbacher said those living in Boston have struggled to define the meaning of cultural community and ways to express that identity.
"First of all, going back to the last century, Boston has a very schizophrenic sort of personality when it came to itself perception," he said. "There was this notion of being the hub of the universe and also this notion of that Boston was the little New York, this sort of smaller sibling that was chasing the coattails of the real capitals. This is all getting better also."
Boston has been perceived as a "gangster land" or as a place for intellectuals, Merzbacher said.
"It's not concerning about Boston's gritty image," he said. "The city's identity in film can be positive. Having a mythology around one's self gives character and is appealing."
White said Boston's unique history has helped distinguish it from other cities.
"We have our own customs and mores that separate us from New York, which helped create our own image," she said. "It's a space with an industry and cultural life. Boston is not a flyover city, but somewhere to go."
Following the presentation, attendees asked questions about what Massachusetts and state leaders are doing to develop the arts and in what ways Boston is an innovative, but traditional city.
Several attendees said they found the panel informative and were interested in the topics spoken about.
Gabrielle Fischler, a senior in the College of Fine Arts and CAS, said she is glad that such conversation is taking place and hopes that artists can be more involved in cultural matters in the city.
"It's great to see what's happening in the city and that the arts haven't died," she said. "The BSO [Boston Symphony Orchestra] and the ICA [Institute of Contemporary Arts] … during the recession they had a bit of a struggle, but they've transformed."
Mark Chesak, a COM professor, said he attended the seminar because he appreciates the arts.
"I've lived in an artist loft for a long time," he said. "I don't do art as a living, but I am interested in it and interested in how to make it more available to people. It can be more part of the community rather than having to go to a symphony or something more formalized."