The Massachusetts Bay Transportation Authority announced a one-year Youth Pass pilot program to offer reduced fares to eligible youth in and around Boston Friday, beginning in July, according to a Friday press release from the Massachusetts Department of Transportation.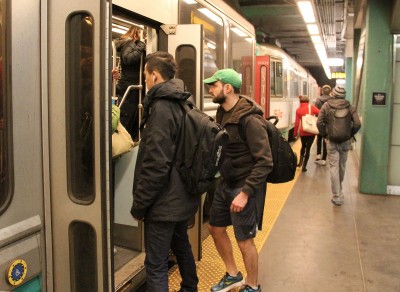 The fares will cost $26 a month or $7 for a seven-day pass, with the availability of the seven-day pass depending on the city partner, the release stated.
The program will be available to students ages 12 to 21 who are enrolled in school or job training program and don't already have access to receiving reduced fare benefits from their institution, said Laurel Paget-Seekins, director of research and analysis for the MBTA. The students must also be residents of either the city of Boston, Chelsea, Malden or Somerville.
Paget-Seekins said the one-year trial period is in anticipation of a full-time Youth Pass program to evaluate the advantages it has over pre-existing student passes, which are currently available through middle and high schools.
"The pilot is the result of a collaborative process between MBTA and MassDOT staff and youth advocates," Paget-Seekins said. "[It] will evaluate the benefits to the youth and the costs to the MBTA to implement a full Youth Pass product."
Paget-Seekins said the price is comparable to the existing student passes.
Eligible individuals can apply by April 30 on the MBTA website or at municipal partner, Paget-Seekins said. However, the pilot has space for a maximum of 1,500 participants who will be chosen in a random lottery.
Paget-Seekins said MBTA's cooperation with the MassDOT staff and youth advocates will diffuse the costs of the program among the partners.
"Since the pilot has only 1,500 participants, we estimate the lost fare revenue to the MBTA will be approximately $350,000. The majority of the administrative costs are being borne by the municipal partners," Paget-Seekins said. "The premise of the Youth Pass is that it will be paired with a University Pass and together the programs will be revenue neutral, or positive, for the MBTA."
Jessica Rosario, director of youth development for Action for Boston Community Development, said this program seems like a small initiative, but could bring big opportunities to kids in low-income households around Boston.
"One of the major barriers that our youth deals with is transportation, whether that is to work, to school, to a GED class, a work-training program," Rosario said. "We have youth who would like to come to our programs, but they do not have the funds or means to come downtown and participate in what we offer every day."
Rosario said partnerships between the MBTA and Boston Public Schools have been lacking, as those passes are only valid for weekday transportation and don't help students who have to spend their weekends helping their families make ends meet.
"We have youth who have to have a part time job to help out their household, their parents, and even to support themselves. School monthly passes are for the week, so Saturday and Sunday become an issue," she said. "Some of these kids are responsible for their family's rent, food and basic living expenses, so they have no extra time or money."
A pass that provides weeklong reduced fair could significantly change the obstacles students in low-income households face, Rosario said.
"Even though to most people, this is something that is relatively low cost, for these kids, it often becomes a choice between buying a T pass or buying food to put on the table," she said.
Several residents said the program is a useful investment in the city's youth and the future of public transportation in Boston.
Stacy Manley, 39, of East Boston, said she's familiar with challenges in using Boston's public transportation regularly, and authorities should do what they can to help alleviate these challenges for students.
"It sounds like a good program, especially if the kid's going to school. I've been on a budget before and it stinks, and the MBTA can be pretty expensive, so it sounds like a good idea," she said. "That's good they're making it easier to get around because even when you have a full income, it's hard."
Taylor Goodman, 26, of Allston, said the pass could make up for areas which the T doesn't reach, and improve the often poor accessibility, especially for those who are looking for a cheap and expedient form of transportation.
"That's great because the T tends to run along where the money is in the city, like the best T runs through the business district, so it's not easy access for everyone," he said. "In a town like Roxbury, there's not really one good way to get downtown. They have buses, but it's harder to take buses, and it's not even really cheaper, which is frustrating."
Eric Walter, 34, of Roslindale, said students shouldn't have to face an expensive public transportation system, as high fares are stressful and can stunt their ability to travel around Boston.
"The MBTA needs discounts for students, because they are the main people that use the train and because they're in school," he said. "They're the future, and they're trying to do something positive as citizens of Boston."