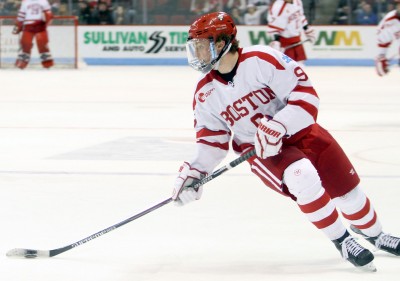 There is little that freshman center Jack Eichel has yet to accomplish in his first season with the No. 2 Boston University men's hockey team.
During his brief tenure with the Terriers so far, the talented forward has already secured Hockey East Player of the Year, Hockey East Rookie of the Year and Hockey East Tournament MVP — a testament to the 18-year-old's skill out on the ice.
However, Eichel might have to make room in his trophy case for an even bigger individual accolade in the near future.
On April 2, the North Chelmsford product was named as one of the three Hobey Hat Trick finalists for the Hobey Baker Memorial Award, given to the nation's top college hockey player.
Arriving on Commonwealth Avenue as one of the most hyped U.S.-born hockey prospects in decades, Eichel has certainly lived up to the billing, leading the nation in points (67), assists (43), power-play points (22) and plus-minus (plus-49).
While Eichel has been forced to play under a heavy spotlight throughout his freshman campaign with the Terriers, BU head coach David Quinn acknowledged that his star forward has continued to answer the call and produce out on the ice — despite having to deal with such heavy expectations levied against him.
"He's handled it incredibly well," Quinn said in a conference call on March 31. "He's been a marked man, as he should be. When you have the reputation that Jack has and you have the pedigree that he has, most opposing teams are going to focus on players like him.
"He's incredibly tough," Quinn added. "You see his stats and his skills and all those things — don't get me wrong, they're elite — but he's a tough son of a bitch, and he's competitive, and he's withstood an awful lot. He's handled it about as well as anybody could."
If Eichel hoists the Hobey Baker Award, he would be the third Terrier in program history to secure the prestigious award, joining forward Chris Drury (1998) and defenseman Matt Gilroy (2009).
Joining Eichel in the Hobey Hat Trick selection are University of North Dakota junior goaltender Zane McIntyre and Harvard University junior forward Jimmy Vesey.
Eichel, Vesey and McIntyre were separated from what was an initial list of 10 Hobey Baker candidates by both a 27-member selection committee and a round of online fan voting.
According to the award's website, candidates up for the Hobey Baker Award must exhibit, "outstanding skills in all phases of the game, strength of character on and off the ice" and "sportsmanship and scholastic achievements."
Eichel is the first BU player to be named as a Hobey Hat Trick finalist since both Gilroy and forward Colin Wilson got the nod in 2009. Eichel would stand as just the second freshman in NCAA history to win the award, joining University of Maine's Paul Kariya (1993).
The Hobey Baker Award winner will be announced at 5 p.m. on Friday at Matthews Arena in Boston.