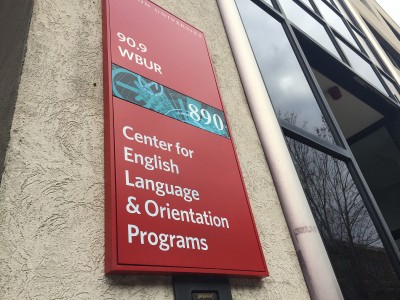 Part-time lecturers at Boston University's Center for English Language and Orientation Programs, a center for English learners, voted 23-2 to join the Faculty Forward project of the Service Employees International Union Local 509, SEIU announced in a Wednesday press release.
"More than 3,000 Boston-area educators now [join] in a shared effort to improve their profession and the overall quality of higher education," the release stated. "Greater Boston's contingent faculty form the core of a robust, nationwide movement to address the crisis in higher education — where the role of educators is increasingly low-wage and marginalized, despite tuition increases and growing endowments."
The CELOP adjuncts join more than 750 other part-time faculty members at BU, who in February voted to unionize through SEIU Local 509 by a 319-158 vote, The Daily Free Press reported on Feb. 5.
Peter Ruggiero, an adjunct professor in CELOP, said it was the right time for him and his colleagues to unionize.
"There has to be a moment for everything, and it seems that the critical moment in terms of organizing around adjuncts, Fight for 15 [a movement to raise the minimum wage to $15] and all other forms of labor that had not previously been unionized has come to fruition," he said.
Ruggiero said that although CELOP adjuncts preferred be part of the initial movement and unionization vote in February, Wednesday's vote will still be beneficial to students and adjuncts alike.
"We're the ones working with students on day-to-day interface, and the quality of our working conditions are essentially the quality of the students' learning environments, feeling that more secure ground under my feet so that I can help my students even more," he said.
BU spokesman Colin Riley said the university looks forward to working with the newly-unionized faculty.
"At that time [in February], we said that BU has a long history of more than 60 years of working with the SEIU and we look forward to negotiating a new contract for our part-time faculty," Riley wrote in an email. "That is our view with regard to the CELOP lecturers vote as well."
Ellen Yaniv, an adjunct CELOP lecturer, said the unionization is a smaller part of a nationwide movement to bring more value to the roles of part-time faculty.
"Investing in the classroom should be a major priority at Boston University," she said in the release. "Through our union, I know we will make BU a better place to teach and learn."
Dan Hunter, an adjunct professor in the College of Arts and Sciences who was part of the faculty unionization effort in February, said he is not surprised by the results of Wednesday's vote.
"The trend is very strong that adjuncts, not just at Boston University, and not just in CELOP, but all across the region and all across the country, are standing up for better wages, for decent pay," he said. "I'm not surprised … I'm pleased that they made that choice because the more we get together, the more we work together, the more unity we have, the more effective we're going to be."
Hunter said the CELOP election plays a part in the larger effort for the rest of BU's adjuncts to fight for better working conditions.
"Every time you have an election, particularly when the results are so convincing, it speaks to the right course that we are on," he said. "If there were a chance that we could achieve these goals without a union, then you wouldn't see such strong turnout."
Several CELOP students said they support the adjuncts' decision to unionize.
Fahad Aljurbua, a second-semester CELOP student, said the decision could encourage adjunct professors to become more invested in their positions at BU.
"It makes sense because when they don't have the opportunity to bargain and do the stuff to improve their situations, they will be less excited to teach the students here," Aljurbua said.
Ahmed Alzahrani, also a second-semester CELOP student, said unionization is the only way to create meaningful change for adjunct professors.
"For a top-tier university like BU, the adjunct system has to be changed," he said. "People have to be secure in their job to be able to perform well, and to give their best for students. They have to be united because you listen to a group. You don't listen to one person."