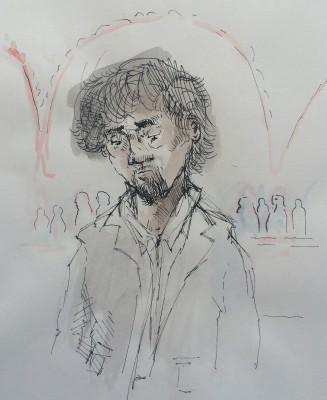 Family and friends of Dzhokhar Tsarnaev testified Monday on the fourth day of defense testimony in the penalty phase of his trial.
Tsarnaev, the 21-year-old former University of Massachusetts Dartmouth student who admittedly placed bombs at the finish line of the 2013 Boston Marathon that killed three and injured more than 200, faces the death penalty on 17 of his 30 charges.
Witnesses, among whom were cousins and aunts of Tsarnaev, spoke about their experiences with Tsarnaev and members of his immediate family.
The defense first called Raisat Suleimanova, a cousin of Tsarnaev, to the stand. She answered questions with the help of a Russian translator.
Raisat said that she has never traveled outside of Russia, and that it was important for her to be in court.
"I came for the sake of my brother who I love very much," she said. "He's part of my family. I have no right not to come here."
Recalling the "effect" Tsarnaev had on his family through his kindness, Raisat said he "changed" her strict aunt Patimat, his grandmother, who "allowed him to do what he wanted."
On one occasion, Raisat said, while spending time with his grandmother, Tsarnaev watched the movie "The Lion King" and cried when the character Mufasa died.
"She would say, 'I don't understand how such a small child … could sympathize so much, could understand tragedy,'" Raisat said.
During cross-examination, the prosecution began to ask how Tsarnaev could have sympathy for a "cartoon character" and be "indifferent to real pain and suffering of innocent people." The defense objected to the question, though, and U.S. District Court Judge George O'Toole didn't allow Raisat to answer.
The defense also showed Raisat photographs that showed Tsarnaev's mother, Zubeidat Tsarnaeva. In several of the photographs, Zubeidat wore clothing different from the hijab and black garments she currently wears.
"In 2010 I went back home [to Dagestan], and that was the first time I saw her wearing a hijab for the first time. I was in shock," she said. "It was a shock for me knowing what type of person Zubeidat used to be. It was very strange to see that. She used to be such a fashionable person. She loved to wear bright clothing, but now to see her wearing a hijab was a shock for me and my mother and everybody."
The defense next called Naida Suleimanova, Raisat's sister and another cousin of Tsarnaev.
Teary-eyed, Naida said that seeing her cousin was an emotional experience.
"I am seeing my brother for the first same in so many years and it's not easy," she said.
Naida was shown a photograph of Tamerlan Tsarnaev, Dzhokhar's deceased brother, carrying him on his shoulder when they were children. She spoke about the brothers' close relationship.
"Dhzokhar loved his older brother very much," she said. "This is the custom in our family. You would always listen to your older sibling. You always try to listen to your older sibling or older brother and follow his example."
The defense played for her a tape of Tamerlan speaking Russian. A transcript and English translations were shown on a screen.
"I understand it correctly, but … the Muslims are all different," Tamerlan said in the recording. "Not everyone is a perfect Muslim? One may have more hatred than the other, I don't know."
When asked if the religious ideas expressed in the recording were consistent with the Islamic traditions in her family, Naida denied it.
"I don't understand this," she said. "Our parents didn't teach us these things. They taught us to pray, to read the prayers and I'm very far away from all this."
Patimat Suleimanova, one of Tsarnaev's aunts, took the stand after Naida. She began to cry and answered only a few questions before O'Toole suggested giving her time to compose herself. As she left, Tsarnaev began to wipe tears from his own eyes.
The defense then called Shakhruzat Suleimanova, another aunt and the mother of Naida and Raisat, who talked about raising her younger sister, Zubeidat.
"It was very hard for us. Our mother was always in the hospital," she said. "I did everything. When mother was discharged from the hospital, she couldn't do much. I was right next to her [Zubeidat], cooked the meals, did the laundry, supported them."
Following the death of her mother, Shakhruzat said her sister went to live with several of their uncles until she went to university.
Shakhruzat said her family, which is ethnically Avar from Dagestan, did not approve of Zubeidat's ethnically Chechen husband, Anzor.
"At first everybody wants their own people, because we don't allow our daughters to marry a person from different ethnicities, and we don't take people from other ethnicities to marry our people," she said.
When Zubeidat and her family planned to move to the United States, Shakhruzat said she had concerns about the distance.
"We felt very bad," she said. "We cried a lot. We didn't want them to go because it's so far. We didn't want our younger sister to be so far from us. She wouldn't have the love she would if she were close to us, so we didn't want her to go. She was like a daughter to me. I raised her. I treated her like a daughter. It was like someone tore her away from me when she left."
Shakhruzat said that Zubeidat's family was very "fun-loving" and that her children were well-behaved.
"They wouldn't hurt a fly,'' she said. "My sister's children were such good children."
Nabisat Suleimanova, Shakhruzat's third daughter, took the stand after her mother. She spoke about briefly living with the Tsarnaevs in Kyrgyzstan and Chechnya, where she helped take care of the children, Tamerlan and his sister Bella.
The defense showed Nabisat a picture of a young Dzhokhar doing his homework. She started to cry while telling the courtroom about one of her memories of him.
"There are very many [memories]," she said. "He was so warm, so caring [that] one would want to hug him and not let go."
The defense then recalled witnesses from Wednesday to provide some insight about Tsarnaev's life before the bombings.
Alexa Guevara, a college friend of Tsarnaev's, identified his ethnicity as Chechen, calling him by his family nickname, Jahar.
"Our friend told us one day that Jahar could do this one [Chechen] dance," she said. "He eventually got up and did it. Diaz [the friend] told him he didn't do it right and to do it again. It was a lot of quick movements. I didn't think he was that coordinated."
After the anecdote, the prosecution began cross-examination and asked about Tsarnaev's monetary situation. The defense objected to questions about his not having enough money, or having extra from selling drugs. O'Toole abruptly called for a sidebar conference.
Afterwards, the defense called Rosa Booth, a friend of Tsarnaev's from high school.
Booth, who is currently a third year student at the Massachusetts College of Art and Design, recalled her memories of interacting with Tsarnaev.
"We would sit together most days and talk and sketch," she said. "He seemed like a sweet boy … We would just spend time together, talk. We would smoke together too, smoke marijuana. He had a sweetness about him. He was shy. I was shy."
Tsarnaev was not one to make over-arching decisions for a group, Booth said. Instead, he was the one to follow the crowd.
"There was fluidity in his friend groups," she said. "I would see him move through different groups. We stuck to familiarity, but everyone was pretty close."
Booth said she last saw Tsarnaev in August 2012. The defense showed two photographs of that meeting, which portray Booth, Tsarnaev and a group of friends sitting in lawn chairs.
In cross-examination, the prosecution asked Booth if she knew Tsarnaev well.
"I thought I did," she said. "I had a crush on him then."