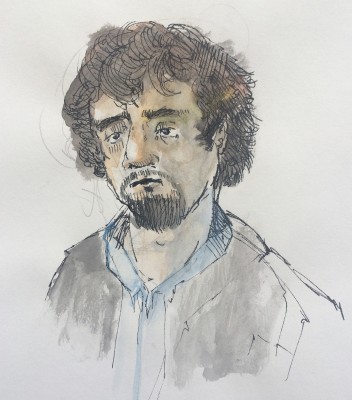 Attorneys for Dzhokhar Tsarnaev focused Tuesday on his character and the dysfunctional nature of the Tsarnaev family by highlighting problems several family members faced during the fifth day of defense testimony in the penalty phase of his trial.
Tsarnaev, a 21-year-old former University of Massachusetts Dartmouth student, was found guilty of placing bombs at the finish line of the 2013 Boston Marathon. He faces the possibility of the death penalty on 17 of 30 charges.
The defense first called Amanda Ransom, a graduate of Suffolk University and a former roommate of Katherine Russell, Tamerlan Tsarnaev's widow. She spoke about her experiences with Tamerlan and their role in ending the roommates' friendship.
Russell met Tamerlan when they began dating during freshman year of college in 2007, Ransom said. There were times, she said, when she felt uncomfortable around him.
"The way our conversations would go, I always felt we weren't quite having the same conversation … certain things were sort of lost between us," she said. "Our conversations weren't so clear."
Tamerlan once told Russell he had AIDS after they had sex, Ransom said, and when Russell began to cry, he laughed and said, "it was just a joke."
As their relationship progressed, Ransom said she observed Russell starting to dress and act differently.
"She started to wear a hijab. She started to dress, fully cover herself," she said. "She became very quiet and obviously very alienated from Stephanie [another roommate] and myself."
Ransom recalled an incident in which Russell and Tamerlan got into a loud argument. He also yelled at Ransom to come downstairs, she said.
"After he spoke to me I moved my desk to barricade my door," she said. "We packed bags and we left … We were scared … I was thinking that she [Russell] would deny anything ever having happened and he wouldn't be in jail and therefore he would be more agitated with me."
Elizabeth Zamparelli took the stand next and spoke about her experience as a former classmate of Dzhokhar's at Cambridge Rindge and Latin School.
She said she considered Dzhokhar a friend and someone she turned to when facing her own problems at the time.
"[He would] just make me laugh," she said. "He would make me feel good."
When photos of suspects in connection to the marathon bombings first appeared, Zamparelli said she remembers thinking they looked like Dzhokhar, but did not think they were of him.
"None of us thought it could be. It was like a joke almost … the idea that it could be him," she said. "It was very much not who my friends and I knew him to be."
Mirre Kuznetsov, a storeowner who served the Russian community, said she met the Tsarnaevs in 2005.
"They were a very nice looking family [and] close to each other," she said.
After a year had passed, she said, she was "surprised" to see Zubeidat Tsarnaeva, Dzhokhar's mother, covered and wearing a hijab, different than her usual "fancy" clothing. Seeing Tamerlan with a beard "looked very strange," she said.
Alexander Niss, a psychiatrist now based in Los Angeles, treated Anzor Tsarnaev, Dzhokar's father, for posttraumatic stress disorder over a two-year period.
Anzor sought help for hallucinations, seizures, anxiety and paranoia related to his experiences with war in the Caucasus region of Europe, Niss said.
"He vividly saw [and] he was hallucinating and saw as it was at that time," Niss said.
Over time, Niss said Anzor's seizures, paranoia and anxiety reduced, but he still had concerns about his physical health.
"He was putting his head very often on the table because he had some disease, sometimes headaches," Niss said. "He was unwell. There was a general condition of not being well."
Michael Reynolds, a professor of Near Eastern studies at Princeton University, provided historical and cultural context about Chechnya, the country where Anzor's family is from.
Reynolds explained the Chechen code of conduct, called "Adat," which sets standards such as a strong family unit with the father in charge. Bonds between brothers are also important, he said.
"The younger brother owes his deference and his loyalty to the older brother," he said.
The first war between Russia and Chechnya began as a secular movement to establish a Chechen national state, until Arab leaders introduced ideas of radical Islam, Reynolds said.
"They saw the Chechen struggle as a wonderful opportunity to exploit," he said. "They saw a small Muslim nation fighting a great nation and having some success."
Websites such as Kavkaz Center are examples of the Internet presence and influence jihadists have had, Reynolds said.
The browsing history on devices belonging to the Tsarnaev brothers showed they visited Kavkaz Center and watched videos about Islam. "Instructional", "atrocity" and "motivational" were the main categories the videos fell under, Reynolds said.
During cross-examination, the prosecution confirmed that none of the members of Tsarnaev's immediate family was born in Chechnya.
The prosecution presented Reynolds with a copy of a paper he wrote called "The Northern Caucasus, The Tsarnaevs, and Us" from the Foreign Policy Research Institute, published in May 2013.
Reynolds wrote the paper after the bombings before the defense contacted him, he said.
"To be sure, the actions of any individual or even group of individuals can never be reduced to identity," Reynolds wrote in the paper. "Identity most assuredly is not destiny. Moreover, Tamerlan and Dzhokhar Tsarnaev were hardly typical of Chechens, and one might justifiably question whether they can even be properly described as Chechen."
The prosecution posed various scenarios to Reynolds, asking if customary traditions would be broken if a child went against a father or older brother. These scenarios included orders not to smoke, drink alcohol or sell drugs.
"There are different levels of infractions, but infractions may not be the right word because that implies a systems of regulated law," Reynolds said.
Next, the defense called Henry Alvarez, a former wrestling teammate of Dzhokhar. He and Dzhokhar joined the team the same year, he said, and they bonded through the training.
"It was very tiring and it was hard. There [were] hardly any breaks so we just went from one exercise to the next to the next to the next," he said. "That's how we broke the ice and got to know each other. Sometimes when we had to run stairs for a half hour I would get tired and catch my breath, but he would encourage me to continue."
Alvarez mentioned that Tsarnaev returned to his high school during his winter break to help out with practices.
Lastly, the defense called Roy Howard, who coached the wrestling team. Dzhokhar became a co-captain of the team by junior year, Howard said.
"He showed leadership," Howard said. "He showed hard work and dedication."
The defense ended questioning for the day by asking if the actions that took place during the 2013 Boston Marathon were those taken by the same wrestler he knew. Howard said they were not.