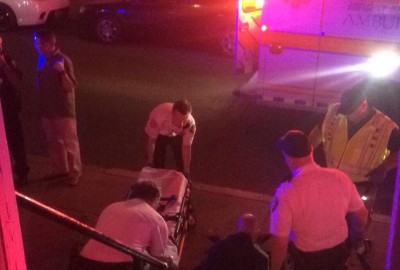 An Allston resident is expected to survive after being stabbed Saturday night, a Boston Police Department official said.
BPD spokesman Stephen McNulty said officers responded to reports of a stabbing at around 8:43 p.m. Saturday night at the corner of Linden Street and Cambridge Street in Allston. The victim was soon taken to a local hospital.
The area is home to multiple off-campus BU student apartments. At this point, it is unclear whether or not the victim is a BU student, though McNulty said he is expected to be okay.
"I called over to the lieutenant on duty and he said the person was going to pull through," he said. "I think it was a little overreaction."
The incident is currently under investigation, McNulty said.
"Homicide is involved in the investigation," he said, "[But] I don't think they'll ultimately remain involved."
Taj Leblanc, a senior in the Questrom School of Business, said he watched from the stoop outside his apartment as a bystander gave the victim first aid before police arrived at the scene.
"I heard some yelling outside and I ran to the door in my boxers," Leblanc said. "There was a guy putting pressure on this dude's chest, then I went to get dressed and when I got back the police were already there."
Police screamed orders, asking the growing crowd if anyone had seen the assailant, while what appeared to be the victim's family arrived at the scene, Leblanc said.
"There was a lot of yelling. One guy was yelling, 'This is my brother!'" Leblanc said. "The cops were like, 'I didn't ask who he was, I asked who stabbed him!'"
Leblanc said he saw blood splatter and a bloody, wadded-up t-shirt used to slow the victim's bleeding on the sidewalk following the incident.
"He was stabbed in the upper ribcage. There was a lot of blood, but it didn't feel like he was going to die," he said.
LeBlanc's roommate, Michael Balangue, a graduate student in the College of Fine Arts, said he saw authorities prepare the victim for transport to the hospital.
"The facts still stand. There was an assault right outside my door," Balangue said, "and it's scary to think that a crime could be happening right outside your door without you even knowing it."
Balangue said he saw this as contradicting the messages BU administrators usually give about safety.
"I find it peculiar that you see all of these stories of what makes BU a more safe campus than other urban university campuses," he said, "but you can't really prepare for something like this."
Christine Berry, a rising senior in Questrom, lives just block away from the scene. Berry said she was shocked when she heard the news, especially given the fatal police shooting of a knife-wielding man near BU campus on Friday.
"It's crazy that it happened the day after, and that it was so close," Berry said. "I walk down that street all the time to go to my friend's house. The fact that it happened so close, and the suspect [in the stabbing] hasn't been caught, it's horrifying."
Despite this, Berry said she didn't think this assault would have too much of an effect on the Allston community.
"It's such a busy area with so many people," she said, "that I think if anything, what's it's going to change is that people won't be walking home alone for a while."
Amanda Burke contributed to the reporting of this article.