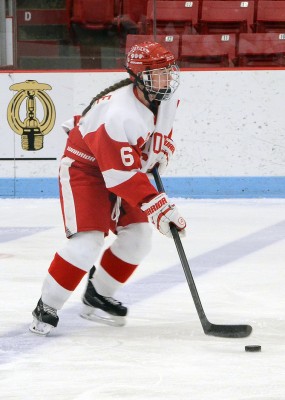 Joining Boston University women's ice hockey senior forward Sarah Lefort in the fledgling NWHL, 2015 graduate Shannon Doyle has signed with the Connecticut Whale, according to an announcement made Wednesday by Whale general manager Harry Rosenholtz.
Rosenholtz highlighted Doyle's strengths during his announcement, citing her success as a two-way defenseman at BU as the major factor behind the signing.
"Shannon Doyle is a gritty, hard-nosed defenseman who will contribute at both ends of the ice," Rosenholtz said. "She possesses a rare combination of toughness and finesse, and she will be effective in special team situations."
Doyle had a senior year to remember in 2014-15, ranking third in the nation among defensemen with 106 blocked shots and 29 points. She also tied classmate Marie-Philip Poulin for the team lead in plus/minus at plus-32.
During the Hockey East Tournament, Doyle thrived, posting at least a point in all four games en route to a berth on the Hockey East All-Tournament Team.
"I am excited to play for the Whale and play in the NWHL for a multitude of reasons," Doyle said in an NWHL press release. "Predominately, I am extremely excited to be a part of a team that has already set itself up as a club that cares about the well-being of the players and has a team-first mentality. Harry and [Whale head coach] Jake [Mastel] are amazing people and I am excited to learn and develop as a player under their guidance."
As a junior, Doyle earned Hockey East First Team All-Star and New England Division I All-Star honors after setting then-career-highs in goals (6), assists (18) and points (24). She also blocked a league-leading 89 shots.
Doyle came to BU after two seasons with Colgate University. Before playing at the collegiate level, she was a member of the Canadian U-18 team which won a gold medal at the 2010 IIHF World Women's U-18 Championship.
"I love the game of hockey and work extremely hard to promote the game off the ice by volunteering with younger hockey players and on the ice with a consistent and aggressive level of play that I hope Whale fans will enjoy watching," Doyle said.
"I am excited to be a part of the NWHL as a whole because of my belief that the NWHL is going to serve as an eye opener to many people regarding the high level of hockey that is played by female athletes and is now available for future players," she added.
Doyle will join fellow signee Brittany Dougherty, from the University of Maine, and former BU blue-liner Kaleigh Fratkin in Connecticut.