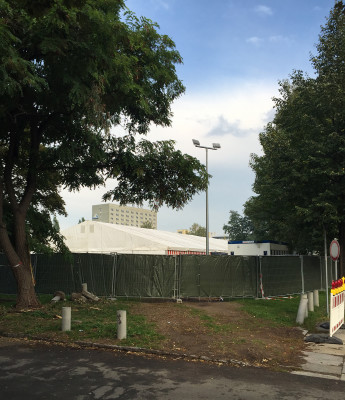 When Boston University student Jasmine Nouravi got an email Wednesday saying that hundreds of Middle Eastern refugees would be setting up camp outside her BU dorm in Dresden, Germany, she didn't know what to think at first.
"We didn't know who was staying there, none of us really knew," Nouravi, a sophomore in the College of Arts and Sciences, said. "A week ago on the news there started to be a lot of regular articles about what was going in in the Middle East and Syria and Iraq and how people were trying leave because of all the government issues."
Due to civil unrest and persecution from government officials, hundreds of thousands of Syrian and Iraqi citizens have fled to other countries in search of asylum, mostly in Europe. German Chancellor Angela Merkel said last week that European countries must step up and take responsibility for helping the refugees, and that her nation is prepared to take on 800,000 refugees.
Approximately 200 of those refugees now live just a block away from where Nouravi and around 30 other students live and study in Dresden, landing the students in the midst of the biggest international refugee crisis since World War II.
"It's closed off and they're in tent villages," Nouravi said. "It looks basically like a big tent, if you didn't know what it was you might think it's a circus tent. It has red and white stripes and a big red [medical] cross in front of it. That's about all you can see because it's cut it off."
In the Sept. 9 email, Dresden Study Abroad Director Silke Fimmel informed the residents about the addition of the camp and told them it presents no threat to students.
Alissa Kramer, the BU Study Abroad program manager for Dresden, said it is unclear whether more tents will be established in the coming weeks, but that this makes for a very interesting time to be a student in Dresden.
"Something like this is what study abroad is all about," she said in an email. "What we are reading in the news, these students are actually living in real life, halfway across the world, getting to know these people and hear their stories in person."
With the addition of the camp, Nouravi said, the BU students must carry their passport with them at all times to prove their citizenship if stopped, as well as papers registered with the city that show that they are temporary residents.
While many college students in the U.S. might be uninformed about the refugee crisis, Nouravi said she's glad she can't say the same.
"Of course being around it makes us more aware of what's really going on, it makes it not a thing in the back of our minds that we don't think about," she said.
"[We're] just becoming more global thinkers, a little more culturally aware."
Nicole Hajek, a BU student also studying in Dresden, said she can see the camp from her dorm window.
"I think it's really cool because we're in Germany so it's a different part of the world but were also getting to experience different parts of the world, seeing something that's going to be in history, in textbooks," the Sargent College of Health and Rehabilitation Sciences sophomore said.
Nouravi said police surround the dorm on the weekend at night, and students are advised not to go out past 7 p.m.
"That's when the demonstrations from the extremists usually take place, nothing violent though," she said. "Mostly people with air-horns and signs."
Fimmel also sent out an email last Wednesday warning students that the right-wing political extremist group the National Democratic Party of Germany was planning to protest the refugee camp that night, and that students should stay clear of the area.
Jessica Schiff, a junior in the College of Arts and Science studying in Dresden, said she and her friends watched the protest from her dorm window. She recalled a particularly touching moment from the next morning, as she was on a jog.
"I could see a young boy who had climbed up this lookout chair and was looking over the fence around him," she said. "I could hear all the children playing and it reminded me that these are all people who have struggled to get here and even in the face of opposition they are still willing to push through for freedom."
Schiff said the instance made her reflect on her own life.
"It also made me realize how lucky I was to be where I am now, because I sometimes forget just how lucky I am to have grown up in a place where I didn't have to worry about war and fighting for freedom," Schiff said.
Hajek said BU Study Abroad has done a good job of informing students about the refugee camp and how students should act accordingly.
"The program director just reached out to us and told us what was going on, they also gave us information about how to get involved in the camp and help if we want to, cause there are a lot of people who want to help," she said. "They're very good at reaching out to us and letting us know what's happening."
Kramer said many students have asked how they can assist the refugees, and they were re-directed to Refugees Welcome and Caritas Internationalis, two established refugee aid organizations.
Nouravi said though the events are tragic, being so near to the refugee crisis has positively impacted her and her classmates' worldview.
"We're being exposed to things that people wouldn't probably want to study abroad near," she said. "If they told us that we'd be able to study abroad a few meters away from a refugee camp I don't think people would be as enthusiastic about it as people from our program are."