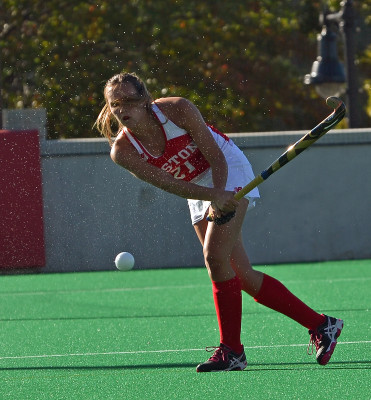 Forget about defense: Bea Baumberger Altirriba is all about offense these days for the No. 17 Boston University field hockey team.
The junior back-turned-midfielder took home Patriot League Offensive Player of the Week honors Monday after a three-point performance Saturday against Lafayette College.
Against the Leopards (5-3, 0-1 Patriot League), Altirriba jumpstarted the scoring for the Terriers (5-2, 1-0 Patriot League) when she netted their penalty corner attempt in the 29th minute. She emerged in the second half once more, this time posting the helper that gave junior forward Amanda Cassera her second goal of the season in the Terriers' 3-1 victory.
Altirriba leads BU with 12 points this season, three times as many as she had all of last year when she primarily played outside back. The Spaniard is tied for the Patriot League-lead with six assists on the campaign, a healthy complement to her three scores.
BU coach Sally Starr cited Altirriba's experience as a major factor in her 2015 explosion.
"She's a junior," Starr said, "so she's really developed her technical side of being a very potent weapon for us on our attack penalty corner."
When asked about Altirriba's transition to the midfield, Starr noted her natural attacking prowess.
"We're really utilizing her attacking skills more," Starr said. "She's very skilled. She's got really good speed. She's playing both back and midfield. When she plays the midfield position, she's really given us a lot more quality attack opportunities."
BU's offense evolving, improving
Altirriba is not the only Terrier who has seen her offensive numbers shoot through the roof this year. On the whole, BU's attack is firing on all cylinders, as it paces the Patriot League in most major offensive categories.
The Terriers have fired 99 total shots through seven games, 10 more than their closest conference adversary, the College of the Holy Cross, which has played one more contest. BU averages 14.1 shots per game, and converts on 2.9 of them to lead the Patriot League.
The Terriers have registered three goals in each of their last two tilts and set their season-high mark Sept. 5 when they hung a six on the scoreboard against Hofstra University.
According to Starr, the success of Terriers' potent attack actually originates on defense.
"I really have to attribute our pressing ability and our ability to keep the ball in our attacking zone," Starr said. "[That helps us] create turnovers in our attacking zone and from that, create goal-scoring opportunities."
Cammy Jensen settles into starting role, 'getting better and better'
One of the major questions facing BU before the season began was how the team would respond after losing two-time Patriot League Goalkeeper of the Year Valentina Cerda Eimbcke to graduation. It suffices to say Eimbcke's junior replacement, Cammy Jensen, has provided the answer.
Jensen has displayed her resolve in front of the cage time and time again for the Terriers in 2015. She has led BU to its 5-2 record, with the only losses coming in overtime against foes University of Massachusetts Amherst and No. 11 Boston College.
Starr believes the Terriers' early-season competition played a major role in Jensen's rapid development, particularly the team's preseason scrimmages against No. 1 University of Connecticut and BC (5-3).
"We didn't want to have easy scrimmages where she wouldn't see a lot of shots," Starr said. "We needed to get her experience very quickly and our scrimmages did that."
In her last 140 minutes of play, Jensen has given up just one score while shutting out opponents for a season-long 128 minutes during that span.
The Escondido, California, native is one of three goalies in the Patriot League to have recorded a shutout this season. She sits second in the conference with a 1.66 goals against average.
As the Terriers prepare for more all-important conference play, Starr believes Jensen has merely scratched the surface of her potential.
"What I love about Jensen is that she has a lot of confidence in herself," Starr said, "she's a hard worker, she's working hard in practice every day to get better, and [associate head coach] Sarah Shute's done a great job with her, in helping her to develop her confidence. She's pleased with where she is right now and we're pleased with where she is right now. At this point in time, she's going to keep getting better and better."