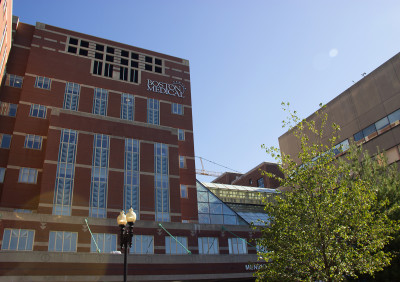 Boston Medical Center plans to cut carbon dioxide gas emissions by 50 percent by the year 2020 in an effort to lead the way in sustainable operations.
Bob Biggio, BMC's vice president of facilities and support services, said the move to greener facilities strengthens the positive impact the center has on people's lives.
"We believe going green aligns with the goals of healthcare reform and our basic goals as a hospital," Biggio said. "It's beneficial from a healthcare perspective with keeping people well and reducing emissions and also reduces our cost, which is required of us under healthcare reform."
Environmental sustainability groups in Boston support the center's plans and work, Biggio said.
"We have been working actively with the Green Ribbon Commission to lead the city's healthcare sector in reducing greenhouse gas emissions," Biggio said. "In order to take a leadership position, you have to walk the walk and lead by example, which is what we have tried to do."
BMC is currently undergoing a campus redesign, a $300 million project, which Biggio said will reduce the campus by 300,000 square feet and reduce energy consumption by 11 million kilowatts.
"We are consolidating [and] shifting from two campuses into a single campus footprint," Biggio said. "We are simultaneously increasing capacity for outpatient, emergency room and many of our core departments."
Biggio said physical changes to the campus coincide with mandated healthcare reform and will create a more positive patient experience.
"This whole project revolves around realigning the way we provide care, so to align with healthcare reform," Biggio said. "It keeps our inpatient capacity equivalent to what it is today but expands the outpatient areas we will need for healthcare reform."
Paul Lipke, a senior advisor for Health Care Without Harm, said the BMC renovation is a large part of its move toward significantly reduced greenhouse gas emissions.
"They're in a process with a master plan that is enabling them to completely rethink its energy use patterns. Other institutions are not in that place of perfect timing, maybe for one reason or another," Lipke said. "We are constantly reminding people that you can't benchmark these hospitals against each other."
Although certain hospitals are in a better position to make large changes in their energy consumption, the entire sector is facing reform and hospitals still prioritize patients,Lipke said.
"The healthcare sector is on the front line of climate change. Hospitals are not only where people go for help in emergency situations, but they are also huge energy users, and they have sworn to do no harm," Lipke said. "Through no fault of their own, they are part of a system that uses greenhouse gas energy to meet the needs of their patients and researchers."
Lipke said hospitals are especially driven to become more energy efficient.
"More than any other sector, they have a mission-related reason to act," he said. "Every penny they spend on energy is a penny they can't spend on patients or prevention."
Several residents and students said they appreciate BMC's efforts to decrease greenhouse gas emissions.
Varsha Muralidhar, a senior in Boston University's Sargent College of Health and Rehabilitation Sciences who plans to attend BU's School of Medicine, said she would like to see a greener future for hospitals because they have the potential to make large and positive impact.
"A hospital going green would have such a bigger impact compared to a house going green," she said. "Shadowing at hospitals, I've seen the crazy amount of waste that is created every day, so I would love to see, and one day work in, a hospital that is eco-friendly."
Melissa Warstadt, a second-year student in BUSM, said changes hospitals make set a precedent for new generations of healthcare professionals to be ecologically responsible.
"If people who are first training get used to things being green, they are going to hold that standard for the rest of their careers," she said. "So the sooner these changes are made official, the more people will see being green as the norm and the more change can spread."
Shaun Amer, 24, of Back Bay, said any reduction of greenhouse gasses will have a positive effect on Boston as a whole.
"Any business or organization cutting emissions is a good thing," he said. "Lowering greenhouse gas emissions contributes to a healthy environment in general. The hospital could probably improve its reputation as a leader in being green, which would benefit them. But this could set a standard that everyone in Boston will notice and look to follow."