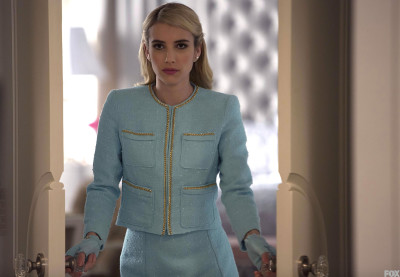 If the new Fox television series "Scream Queens" were a person, it would be Taylor Swift. It's genre-hopping, cliched, well-marketed and, most of all, you love to hate it.
The show begins by introducing the sisters and prospective members of Kappa Kappa Tau, a top-tier sorority at the fictional Wallace University. The only problem? The house is haunted by a serial killer looking to seek revenge on the girls for a murder committed in the house 20 years ago.
The murderer wears a red devil costume and kills people off one by one. The girls are also cursed by the new Wallace Dean of Students Cathy Munsch, played by the harsh yet oddly realistic Jamie Lee Curtis, who has an inexplicable vendetta against sorority girls — specifically Emma Roberts' character, Chanel Oberlin.
Chanel, the president of KKT, can be labeled with no other descriptor than "b—." She wears pink, fluffy designer clothes, is mean to maids and assistants, is racist and homophobic and makes her friends slap themselves for disobeying her rules. She reigns over her clique of sorority girls, whom are selfishly and hilariously called Chanel No. 2, 3, and 5. She's basically the Regina George of the Instagram age.
What makes "Scream Queens" unique is its effortless ability to switch and overlap genres. The pilot alone blends strong elements of comedy, horror, romance, mystery and soap opera. They mesh together so well that the viewer is left happily confused and surprised. When the creators of "Glee" and "American Horror Story" collaborate, this is what you'd expect.
The murder scenes were manageable enough for all viewers, even those who hate horror. To be fair, the writers went out of their way to keep them from being cliché or gruesome. For example, a girl dies at the beginning of the episode while tanning because someone switched the spray with hydrochloric acid. A person died, but almost laughably.
The actors do an adequate job with the overtly corny and over-the-top script they were given, although you can easily differentiate the actors — Curtis and Lea Michele, for example — from singers-turned-actors Ariana Grande and Nick Jonas.
There's not much Roberts could do to make Chanel likeable and human, but she owns it and rolls with it, leading viewers to wonder whether we will ever see a nice side of Chanel. Based on creator Ryan Murphy's history, the answer is most likely a yes.
"Saturday Night Live" alum Nasim Pedrad is a standout in her role as the national president of KKT. Curtis also does a great job portraying Dean Munsch, an actually likeable version of Sue Sylvester from "Glee," and makes a strong statement about sketchy university administration. After a girl is killed, she tells the press, "We can confirm that an incident may have injured one of our students … and frogurt is back, after popular demand, in the dining hall."
"Scream Queens" is definitely a type of show that is new to television, but it's not without its flaws. The dialogue is predictable, the gay and race jokes get annoying, some of the plotlines have holes and the basic white girl character is overused.
However, that may just be what the creators want us to think.
"Scream Queens" was billed as a corny, over-the-top show that makes fun of both horror and comedy shows, and it succeeds with that goal. To watch this show, you have to suspend disbelief and know that Ryan Murphy wasn't trying to make an entirely realistic show. He was simply trying to entertain fans with a funny and thrilling show.
Similar to Taylor Swift, nobody really knows what "Scream Queens" is. It takes "How to Get Away With Murder" and mashes it up with "Community." It's "Pretty Little Liars" and "New Girl" in one.
Even if this sounds horrible, viewers will love the show for the same reasons. They'll love to hate it, but irresistible cliffhangers will leave them wanting answers. Who is Grace's mother? Who is the baby shown at the beginning of the episode? What are Dean Munsch's true motives? And most importantly, who is the Red Devil?