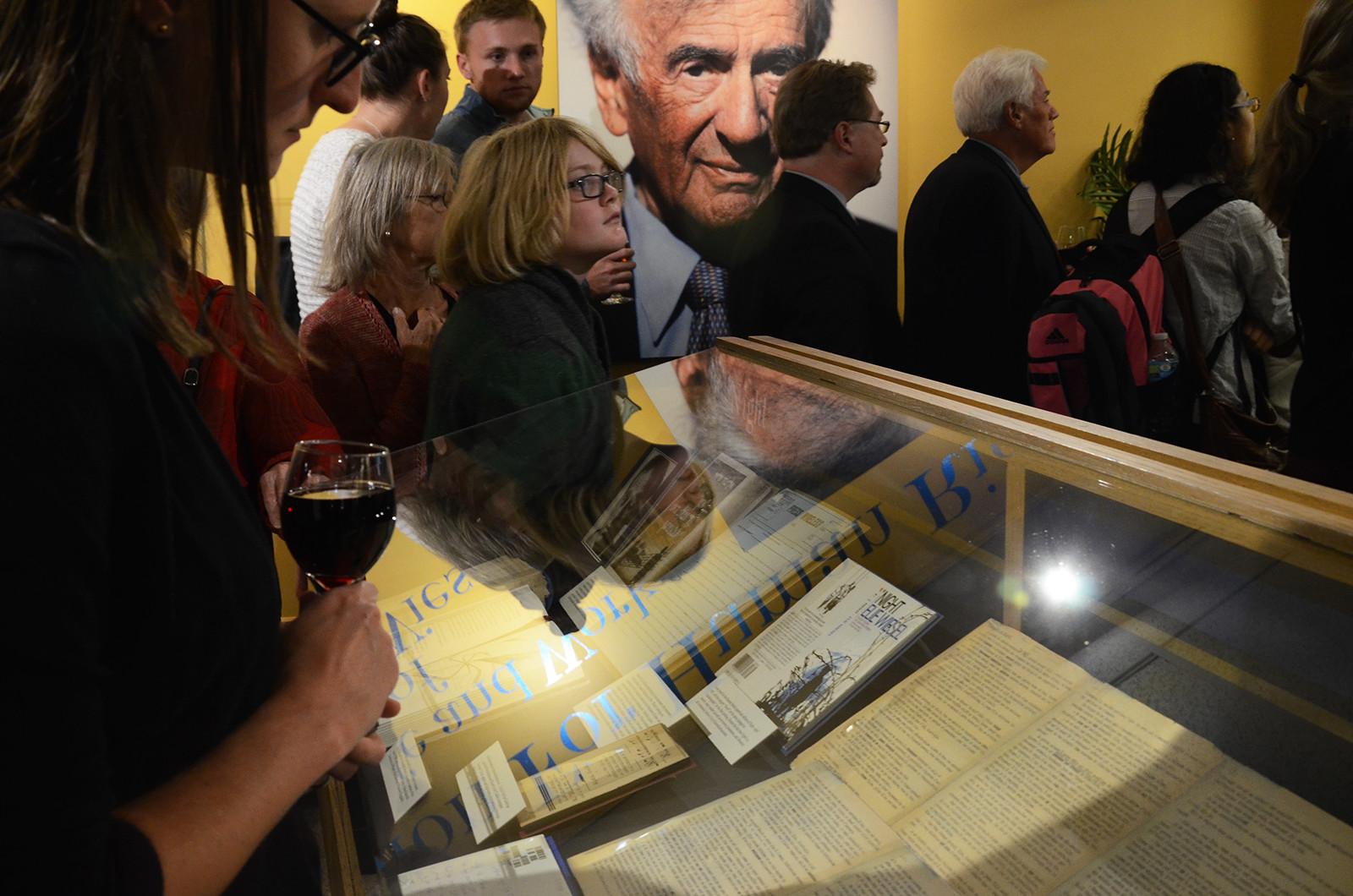 Honoring the BU professor, political activist and Nobel Laureate's life work, Boston University's Howard Gotlieb Archival Research Center hosted the opening reception for its newest exhibit called "Champions for Human Rights: The Life and Work of Elie Wiesel," Sunday, showcasing Wiesel's papers, awards and manuscripts from his expansive career.
Approximately 200 people attended the opening of the indefinite exhibition in the Richards-Frost Room on the first floor of the Mugar Memorial Library, while a reception took place outside the exhibit.
Wiesel, unable to come to the reception, thanked attendees through a video message, saying "when I am in Boston, when I am at BU, I feel academically at home. Every hour I spend at BU is fruitful."
Rabbi Emeritus Joseph Polak, one of the speakers at the reception, said Wiesel's relationship with his students make BU a special place for him to teach.
"His papers truly do belong here, where students challenged him. He stimulated intellectual growth, and he said they did the same for him," he said during his address. "It is a privilege to welcome these papers home."
BU President Robert Brown also spoke at the reception, and said that Wiesel is a valuable asset to the university.
Complementing the new exhibition, the HGARC has launched a new website especially for Wiesel's archive which allows visitors to access videos of his "beloved BU talks," according to the release that accompanied the exhibit.
Ryan Hendrickson, the HGARC's assistant director for manuscripts, said organizing Wiesel's works was a large project, but was unlike anything they have done in nearly two decades.
"We haven't had an event to unveil materials since 1993, which is when we got the first of his papers. This is something we have wanted to do for a while to honor him," he said. "We did a big project similar to this for Martin Luther King Jr.'s works, and since then we have been waiting for the time and resources to do this for Professor Wiesel."
Hendrickson said that the exhibition is now officially installed in the library and hopes students realize what a valuable resource Wiesel's works could be.
"I think once people realize how many interesting topics his work covers in his own life and things like Jewish history and human rights, they will see this as a source of opportunity and inspiration," he said.
Christopher Gately, the HGARC's exhibition, outreach and arts administrator, said the installation aims to present a role model and a man of inspiration to students.
"These exhibits are just small glimpses into people's lives to show students that they can achieve great things like these people did. All these people have contributed a lot to culture," he said.
Several attendees said coming to the exhibition opening was beneficial and expanded their knowledge of Wiesel's life work. Justin O'Shea, a second-year graduate student in the Graduate School of Arts and Sciences, said he was drawn to the exhibition's opening because of Wiesel's relevance in his studies.
"I have always been fascinated by Elie Wiesel, I have read some of his writing," he said. "I actually went to Auschwitz a few months ago, and I am visiting a Holocaust museum for a class, so this opening is perfect timing for me to know it's here and potentially use for research."
Sara Caniglia, a sophomore in the College of General Studies, said this was a unique opportunity to see the new addition to Mugar's already impressive gallery.
"I felt like this was a once-in-a-lifetime opportunity," she said. "I think his work is incredible and historically important and BU already has so many incredible people honored in this gallery, this only adds to what might inspire someone."
Francine Montemurro, BU's ombuds, said she has taken advantage of BU's close relationship with Wiesel before.
"I've read some of his work and used to attend his talks he used to do here," she said. "This gallery can serve as a permanent extension of his effect on the BU community."