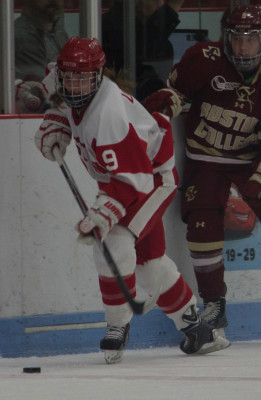 After a six-plus month hiatus, the No. 8 Boston University women's hockey team will return to the ice this weekend for two Hockey East matchups.
The slate gets underway Friday evening at Walter Brown Arena when BU takes on the University of Connecticut. Competition continues Sunday afternoon, as the Terriers will head north to take on the University of Maine.
Unlike last season, when the Terriers did not encounter a conference opponent until their sixth game, BU coach Brian Durocher's side will get into the thick of things early on in 2015-16.
"It's always interesting when you start off with Hockey East play," Durocher said. "… The games are obviously taking on a different significance because they are league games and when you only have 24 of them, they're all pretty important. Victories now count the same as in January or February, so we want to make sure we're ready to go."
Looking towards the initial contest, UConn is at crossroads in terms of formulating a team identity. Its top three scores from last year — Sarah MacDonnell, Emily Snodgrass and Kayla Campero — have all graduated, but the team's ever-steady goaltending returns in full force.
It remains to be seen who will get the starting nod between the pipes, but UConn coach Chris MacKenzie cannot go wrong with either decision. Sophomore Annie Belanger posted a 2.65 goals against average during her freshman campaign and senior Elaine Chuli stopped 92.4 percent of the shots that came her way the same year.
"Offensively, I'm not sure who will step forward for [UConn], but we do know they have two outstanding goalies there," Durocher said. "Whichever one is in the lineup, we're going to have to work hard to get pucks past her."
Not only are the Huskies' netminders formidable, they also boast a strong blue-line corps.
"It's a team that has played good, consistent team defense," Durocher said, "and when you add in a good goaltender, you've got to do your job with screening the goalie, looking for rebounds and shooting from off angles."
As for the second encounter, it is easy to look at Maine's 10-20-3 record from 2014-15 and assume an addition to their win column is unlikely. However, Durocher feels that the Black Bears are close to taking the next step.
After all, one of BU's nine losses from last year occurred at Alfond Arena, and Maine is returning four of its top six goal-scorers from a year ago. On top of that, goaltender Meghann Treacy stopped 93 percent of the shots that came her way last season.
"They had a pretty good team last year, and whether it was confidence or some injuries or not getting the bounces, I don't think they had the season they hoped they would have," Durocher said. "From everything I've seen since [Maine] coach [Richard] Reichenbach has taken over, they've really played loose. They're not afraid to take on a top opponent and I expect the same this year. Also, playing at home, they're going to play with a little more of an edge, so we're going to have to play smart and do the little things while you're on the road."
With all the upcoming challenges in mind, Durocher is mindful that claiming two victories will be no easy task. The Bears and Huskies will be eager to start the season on the right note, but so will BU.
Leading that charge will be a strong veteran core which is led by senior forwards Kayla Tutino and Sarah Lefort, among others. That duo, along with 12 other upperclassmen, know the rigors of Hockey East and how important starting off positively is.
"It's too early to tell exactly where we are, but the one thing I know we have is the experience factor," Durocher said. "There are plenty of kids who have played college hockey and in big games. It's a comforting situation for the coaching staff."