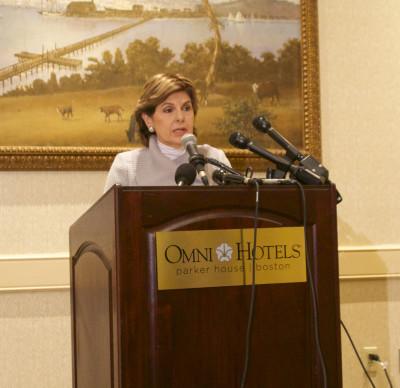 With countless women making allegations of sexual assault against him dating back to the 1970s, actor and comedian Bill Cosby is facing three lawsuits related to some of these claims.
On Saturday, attorney Gloria Allred, representing Judy Huth in a case against Cosby out of Los Angeles, said the actor appeared in Boston Friday for deposition to make statements that can be used as evidence.
"We will be filing motions with the court in connection with the disposition," Allred said at a news conference at the Omni Parker House. " … We will also be seeking to take a further deposition of Mr. Cosby at a later date."
Huth was 15 years old when Cosby allegedly gave her large amounts of alcohol and sexually assaulted her at the Playboy Mansion in Los Angeles, according to court documents.
Due to a protective order on Cosby and Huth's depositions, Allred did not specify where Cosby's deposition took place. The proceedings lasted nearly eight hours, Allred said, but she did not comment on the information discussed.
Allred also did not disclose the location of Huth's deposition, which will take place Thursday.
"The court wants to be sure that both parties receive a fair trial, but the Los Angeles County Superior Court Judge Craig Karlan recognizes that the public has an interest in this case," Allred said. "On December 22, 2015, Judge Karlan will take these concerns into account when he makes a further decision regarding which portions of the transcript of the depositions should remain sealed and which portions, if any, should be made public."
Cosby also faces a defamation lawsuit by three women who allege that he drugged and sexually assaulted them. Disparaging comments made by Cosby's agents about Tamara Green, Therese Serignese and Linda Triatz's accusations have damaged their reputations, according to court documents.
On Friday, U.S. District Court Judge Mark Mastroianni, based in Springfield, denied a request to throw out the suit.
"The court recognizes that some jurisdictions do apply a version of the conditional self-defense privilege, which allows individuals, in certain circumstances, to publish defamatory responsive statements necessary to defend their reputation," Mastroianni wrote in a 38-page ruling. "However … such a privilege does not permit a defendant to knowingly publish false statements of fact."
Joseph Cammarata, the attorney representing Green, Serignese and Traitz, said they plan to take Cosby's deposition as soon as possible, and preferably in Massachusetts because it is where Cosby resides.
"My clients are heartened that they have an opportunity to present their case in court and the ability to restore their good names and reputations," Cammarata said. "We look forward to vigorously pursuing the case and the opportunity to present our case to a jury and let them decide who is telling the truth."
Model Chloe Goins also filed a lawsuit against Cosby on Oct. 6 seeking damages for harm she has faced after an alleged sexual assault. Goins was 18 at the time of the alleged incident in 2008.
In a deposition from a 2006 lawsuit unsealed in July, Cosby admitted to obtaining prescription Quaaludes and giving them to women with the intent to have sexual contact with them.
As a result of sexual assault allegations and the unsealed deposition, several universities have severed ties with Cosby by discontinuing scholarships and rescinding honorary degrees.
Martin Singer, Cosby's lawyer, could not be reached for comment.
Several residents said they support the legal action being taken against Cosby.
Stephanie Silva, 32, of Allston, said she is glad to hear about charges being pursued against Cosby in light of his terrible actions.
"Everything I've heard about Bill Cosby and his actions has been disgusting and horrifying," she said. "Honestly, there should be legal action taken against him and I hope he is punished for his actions."
Jeremy Breu, 27, of Brighton, commented that just because Cosby is famous doesn't mean he shouldn't face consequences for his terrible actions.
"You know, everyone has to be held accountable for their actions, even famous people, especially famous people. Bill Cosby did some really terrible things and it's good if he's facing consequences for it," he said. "Just because someone is famous and has done well for themselves does not mean they should get to get away with doing whatever they want."
Amine Zlaoui, 33, of Brighton, said people are justifiably outraged at Cosby and he should be penalized for everything he has done.
"Everything that's been revealed about Bill Cosby is absolutely despicable," she said. "It's good the lawsuits are moving forward. He did a lot of terrible things to a lot of people and everyone is really angry, as they should be. He needs to be punished for everything that he has done."
Olivia Quintana contributed to the reporting of this article.