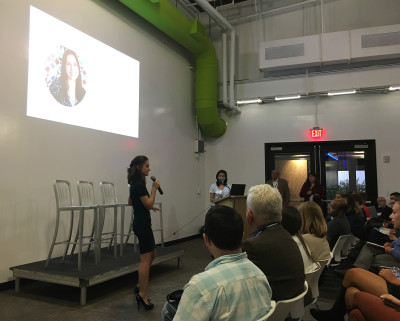 District Hall in South Boston buzzed with innovation and entrepreneurship Friday at the third annual Massachusetts Institute of Technology Enterprise Forum of Cambridge #BeantownThrowdown pitch competition.
Though in its third year, this year's competition was made different through its involvement in HUBweek, a weeklong festival sponsored through a variety of Boston organizations to celebrate the city's innovation.
Katja Wald, executive director of the MIT Enterprise Forum of Cambridge, said the decision to make the competition part of HUBweek was based on HUBweek's goal to celebrate "world-changing work and thinking."
"All of you students here and your colleagues are part of what we want to celebrate," Wald said at the competition.
At the competition, student startups from Babson College, Berklee College of Music, Boston College, Boston University, Harvard University, MIT, Northeastern University, University of Massachusetts Lowell and Wentworth Institute of Technology presented their pitches to an audience of about 225.
Representing BU, Mara Onita Lenco, a graduate student in the Questrom School of Business, pitched her startup Sub It at #BeantownThrowdown. Sub It is a website for college students who want to sublet or rent an apartment or room.
"We're trying to make this really convenient for students because there's no easy way to do it right now," Onita Lenco said.
Onita Lenco and Sub It co-founder Joanna Kimszal attended the event to publicize Sub It and make it more of a household name for students.
"We wanted to get the name out there and get feedback about any logistics we might be ignoring," Onita Lenco said . "It was great getting that exposure."
In addition to the nine student businesses presenting their pitches at the competition, several sponsors were present, including Rough Draft Ventures, a student-run firm from Babson that invests money in student startups in the Boston area.
"We're really fostering the entrepreneurship scene around Boston and trying to build our community by investing in student startups," said Denali Tietjen, a senior at Tufts who is a student partner with Rough Draft. "It's hard for a lot of student startups to really take off in college. It's kind of like you either drop out or you wait until after college. Here, we're going to give students up to $25,000 to help them take off."
Ultimately, Babson's team came in first place, Northeastern's came in second and Wentworth's came in third. However, several attendees said they attended #BeantownThrowdown not for the competition, but to learn about what is going on in Boston's business community.
"I'm interested in entrepreneurship and healthcare, so I would like to see what ideas are out there," said Chia-Ying Lin, a first-year student at BU's Graduate School of Public Health. "I want to see what the innovative ideas are in healthcare."
Another attendee, Toby Willcocks, a first-year student at Harvard Law School, said he wanted to specifically learn about the kinds of businesses students are starting.
"I know that a lot of startups nowadays are being started by experienced professionals doing something that they know really well," Willcocks said. "So I'm interested in seeing what students bring to the table, and I'm here to see what's going on in Boston."
Before the pitches, attendees listened to a panel of business professionals speak about their experiences with start-ups and their advice for students who want to start a business.
The panelists included Katie Rae, managing director of Project 11, co-founder and chairman of Startup Institute Boston and chairman of TechStars Boston; Tom Coburn, CEO of Jebbit; and Dip Patel, CEO of Ecovent Systems and winner of the first #BeantownThrowdown in 2013.
"Make stuff happen," Rae said. "Get a deal done, make your software, get your users, all that stuff will make your company. Everybody thinks it's about the pitch. Not really. It's about what you can produce as a team, as humans together."
Correction: An earlier version of this story used the source and startup names "Tobias Willcocks" and "Sub-It" instead of the correct "Toby Willcocks" and "Sub It," respectively. The story has been altered to reflect these changes.