What a difference 24 hours can make.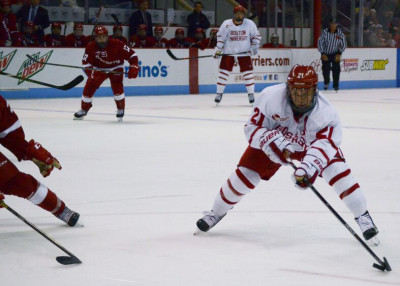 A night after an "immature" exhibition loss to the U.S. National Team Development Program Under-18 team, the No. 6 Boston University men's hockey team defeated the University of Wisconsin, 4-1, in its regular-season home opener at Agganis Arena on Saturday.
BU (1-1) avoided its first 0-2 start since the 2009-10 season. The Badgers (0-2-2) remained winless.
On Saturday, the Terriers looked drastically different than the team that allowed easy opportunities for their opponent and fell 7-4 on Friday.
"After a tough performance last [Friday] night for a variety of reasons, I thought we responded well," said BU head coach David Quinn. "Especially after giving up that first goal. It would've been easy to feel sorry for ourselves, but I thought we did a great job shaking it off and moving forward and playing with an intensity and physicality we're going to have to play with if we're going to have success moving forward."
Sophomore defenseman Brandon Fortunato, a night after posting a minus-4, had two points on the evening. He was responsible for the game-winner, giving the Terriers a 2-1 advantage at the 9:04 mark of the second period. With one second remaining on BU's power play after Wisconsin right wing Jedd Soleway was sent to the box for interference, Fortunato launched a shot over Wisconsin goaltender Matt Jurusik's shoulder to break open the knotted score.
From there, BU scored two more insurance goals to secure the victory.
Wisconsin took the initial lead just more than a minute into the first period. The puck slipped between the legs of sophomore goaltender Connor LaCouvee, but sat stationary just inches in front of the line. As sophomore defenseman Brandon Hickey dove in to clear the puck, it dribbled past the goal line, giving Wisconsin a 1-0 advantage.
Despite outshooting the Badgers 16-5 in the first period, BU remained scoreless for the first 20 minutes.
"A game like that can get frustrating, because you can get so many chances and shots, all of a sudden you may start trying to do things that aren't going to allow you to play like that," Quinn said. "One of the things we talk about is don't let the score dictate what your attitude is. You should feel good about your effort, you should feel good about playing the right way. And I thought we stuck to it."
"Coach Quinn just kept on stressing just keep doing the little things, don't get tired of making the right play," Fortunato added. "We're obviously playing great, and the shots showed that and eventually things were going to come our way and we trusted the system and it paid off."
That effort paid off at the 1:36 mark of the second frame, when senior assistant Matt Lane sent in a close shot to knot things up.
"Sometimes you hope for a good bounce, sometimes you can corral it on your own," Lane said. "Whether it's getting it upstairs or just getting it off quick, getting to the net is where you're going to score most goals."
Sophomore forward A.J. Greer nearly gave BU a 3-1 lead with a breakaway attempt halfway through the third period, but he was thwarted by a last-second cover by Jurusik. The Terriers eventually took a 3-1 lead with 9:01 remaining, with Fortunato's second point of the night, when sophomore forward Chase Phelps redirected Fortunato's shot for his first goal of the season.
Freshman forward Bobo Carpenter notched his first goal of his BU career with just more than five minutes left in the game, when he picked up a loose rebound off an initial shot from senior forward Mike Moran.
Jurusik turned away 40 shots on 44 attempts from the Terriers. LaCouvee faced just 18 shots from the Badgers, and notched 17 saves.
The Terriers raised five banners on Saturday night, in honor of their 2015 Beanpot Championship, Hockey East regular-season and championship game titles, Frozen Four appearance and departed forward Jack Eichel's Hobey Baker Award.
On a night in which BU acknowledged its accomplishments from 2014-15, and had the opportunity to play in front of more than 5,500 fans, the spark provided a difference for the players.
"You could really feel it," Lane added. "It was our home opener, we came out with energy, enthusiasm, and we got the result we wanted."