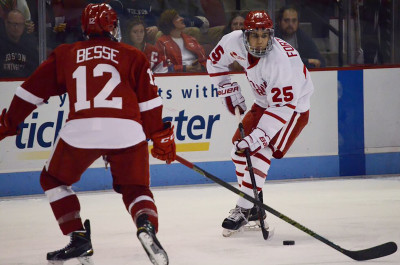 When the U.S. National Team Development Program Under-18 team scored 43 seconds into the game on Friday night, you could have heard a penny drop. No one was was saying a word on the Boston University bench. Everyone looked deflated.
The No. 6 Boston University men's hockey team never recovered after that, succumbing to immaturity and a high-risk style of hockey and taking a 7-4 loss in its final exhibition game of the season.
The difference on the bench and in the locker room on Saturday night for the home opener against the University of Wisconsin was palpable. Though both contests started similarly — an early goal from the opponent fewer than two minutes after puck drop — the Terriers' (1-1) response directly contrasted that of the game before.
Instead of sulking, the team tried to stay positive and encouraged one another throughout. If a player blocked a shot or made a defensive play that was praiseworthy but might not have showed up on the scoresheet, he'd hear about it from his teammates.
"We would try to tap the guy on the back and give him credit," said sophomore defenseman Brandon Fortunato. "It just brings more life on the bench."
BU head coach David Quinn added that the quick marker 1:22 into Saturday's game didn't rattle the Terriers, that they didn't let it. They wouldn't let it affect their approach and what they were trying to do.
"It would've been easy after last night," he said. "You give up a goal like that two minutes into the game, and all of a sudden you're moping around and tripping over your lip, but we didn't do that."
Instead BU responded by outshooting the Badgers (0-2-2) 16-5 in the opening frame, though it took them until the second period to tie things up when senior assistant captain Matt Lane netted his second in as many games.
By night's end, the Terriers took control of things and scored three more goals for a 4-1 final and a 44-18 advantage in shots.
Quinn had asked specifically for enthusiasm and energy from his players going into the win, and that's what he got. He said his squad played with passion, noting that regardless of talent, if guys don't have that, "you're going to have a hard time having success."
The forward was part of Quinn's roster shakeup, as he was moved from the third line up to the second and served as freshman center Jakob Forsbacka Karlsson's right wing while rookie forward Ryan Cloonan played on the left.
The bottom nine were revamped a bit as well, and so were the defensive pairings, but Quinn said that didn't have much to do with the team's improved play. Rather it was that they came to play on Saturday while their performance on Friday might have been a little more lax.
"I think our guys were ready to play tonight," he said. "I'm not making excuses for last night, but it was an exhibition game. We certainly approached it that way, unfortunately, and that's why we paid a price. But you're not going to play perfect hockey, but how do you respond to a bad night, and I love how we responded tonight."
Friday had yielded five BU penalties, three of which came in the final period, and a slew of turnovers that led to scoring chances for the U-18s. On Saturday, the Terriers took four penalties and were shorthanded for three of them, killing off each one. They also cleaned up their defensive game and held Wisconsin to 18 shots while taking 44 of their own, almost matching their 45 from the night before.
Much of the shot suppression had to do with the Badgers' eight penalties and seven shorthanded bouts, but it was also the result of improved defensive zone play.
"We have grown up a lot in 24 hours," Quinn said. "Much better tonight. Much more purposeful, we did play a more mature game. It wasn't pond hockey out there, it wasn't red rover, red rover, send the defenseman on over. We actually paid attention to where the other guys on the ice were, and we made our decisions accordingly."