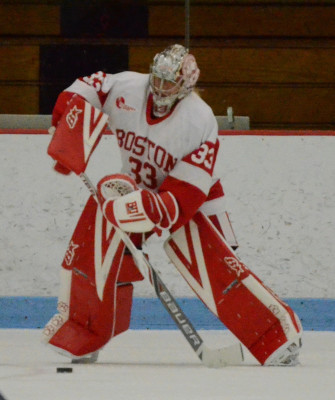 Hockey East play presents the No. 9 Boston University women's ice hockey team with unique challenges, but the team encountered an entirely different beast this past weekend: a top-10 ranked opponent.
Slated against No. 4 Clarkson University, the Terriers (3-3, 2-0 Hockey East) were outscored 8-3 across two contests. Undoubtedly a talented team itself, BU revealed that there still is a ways to go before it enters the elite echelon of college hockey.
The Terriers exhibited a high level of competitiveness across all six periods, but ultimately fell 4-2 on Friday and 4-1 on Saturday. On both occasions, BU had an enticing opportunity to make an early season statement, yet fell just short of the moment at hand.
"It's a measuring stick and for the most part we passed that," said BU coach Brian Durocher. "I give ourselves a reasonably passing grade, but we'd like to get A's and not B's. We probably end up getting a B for a couple of little things that maybe we're in control of."
A major reason why both contests swayed in Clarkson's (7-0) favor was the intensity that is ingrained in its game. All four of the Golden Knights' forward lines skated with unmatched power and wave after wave of pressure, which made it difficult for BU to consistently break out of its defensive zone.
Clarkson's speed of play led to junior goaltender Victoria Hanson and sophomore goaltender Erin O'Neil combining for 74 saves — a total that swayed the odds in the Golden Knights' favor.
"It's another measuring step and tool to learn with," Durocher said. "Any time you play a good team you get a sense of what you have to do or how quick you have to play or how smart you have to play."
The test also took a toll on BU's normally potent offense. The forward line of senior Rebecca Russo and sophomores Rebecca Leslie and Victoria Bach — which has been nothing short of exceptional so far — failed to light the lamp for the first time all year.
Clarkson goaltender Shea Tiley, with the help of an elite defensive corps, deterred 54 shots from the Terriers. On top of that, BU freshman forward Sammy Davis, who leads the team with five goals, was kept relatively quiet.
The Pembroke native found twine on Saturday, but even that was not enough to usurp a Clarkson defense that was a step above BU's offense.
"That's going to be one of the best defensive teams," Durocher said. "A, because they play hard, B, because they have a great goalie and C, they really transition the puck extremely fast. To think there's an All-American defenseman that wasn't in that lineup this weekend in Erin Ambrose, it tells you that they put together a real good team that will be tough to deal with."
All things considered, Durocher's team left Walter Brown Arena this weekend having lost the opportunity to earn positive results against an elite opponent. The Terriers skated with moments of authority and control, but not enough to outclass an impressive Clarkson side.
The losses will also have implications on the Pairwise Rankings, a metric that determines the NCAA Tournament field. While the Terriers will not worry so early in the year, the lasting impact of the Clarkson series could play a role in whether or not BU is a part of the eight-team field come March.
"When it's all said and done and you look back and you sit back, we talk about every year we want to win the majority of our games during the regular season," Durocher said. "We want to win big games that help you with Pairwise and right now it's early and you just take one game at a time, but we know that there is significance and importance in things like this."