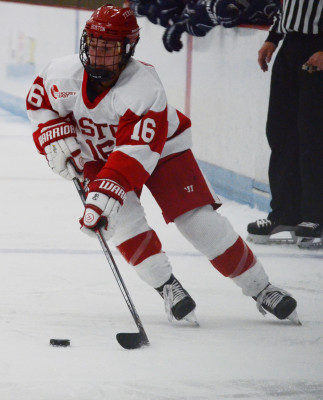 Although the No. 10 Boston University women's ice hockey team fell to offensive powerhouse No. 3 Clarkson University twice this past weekend, both Terrier goaltenders proved themselves in net.
Sophomore Erin O'Neil made 37 saves Saturday against the Golden Knights (7-0), tying her career-high. The previous night, junior Victoria Hanson matched O'Neil's performance, making 37 saves herself.
Hanson faced 21 shots in the Terriers' (3-3, 2-0 Patriot League) season opener against the University of Connecticut. She watched one puck go by her, but ultimately stood strong, helping the Terriers earn their first Hockey East win. However, she could not pick up wins in her last two games, giving up a total of nine goals, and bringing her record to 2-2 for the season.
O'Neil is 1-1, although she has started three games. BU coach Brian Durocher pulled the young goalie from her first start this season after letting in two goals in just over a period. In her second appearance, O'Neil made 27 saves, allowed one goal and earned the win against Pennsylvania State University.
Durocher said he is glad to see O'Neil's confidence improving.
"She went out and the first six or seven times they had it around the net, she was back there getting the puck," he said. "That's a telltale sign of confidence."
Sammy Davis excels on third line
On the opposite end of the ice, freshman forward Sammy Davis has excelled offensively, and leads the Terriers with five goals.
Eight minutes and 53 seconds into the third period of her first official collegiate game, Davis scored the game-tying goal vs. the Huskies (1-1-2, 0-1 Hockey East). Just days later against the University of Maine, the Pembroke native would notch two more scores, including the game-winner with 3:04 remaining on the clock.
In the Terriers' 3-1 win over Penn State (3-3) on Oct. 10, she scored the final goal, giving the Terriers a more comfortable lead. Davis scored the only goal in BU's 4-1 loss against Clarkson on Saturday.
Durocher is impressed with Davis' solid start.
"A good year starts with early success and early season results, and she's got that," he said. "She plays hard and fearless at the net and a lot of goals are scored right there."
Davis had an impressive career at Tabor Academy before attending BU. She was the assistant captain for the United States Under-18 Team, which won the gold at the IIHF Women's World Championship in 2015. The Boston Bruins named her the winner of the John Carleton Award for exceptional hockey skills and academic excellence.
Davis' ability to score gives some depth to the Terriers' offensive lines. The second line, composed of senior forward Rebecca Russo and sophomore forwards Rebecca Leslie and Victoria Bach, has been the most productive this season for the Terriers. Davis has nestled comfortably on the third line alongside senior center Dakota Woodworth and junior winger Samantha Sutherland.
Durocher said his third and fourth lines have been keeping their pace going all season, and Davis certainly helps keep balance throughout every line.
BU defense exposed in weekend series
Despite some stellar performances in earlier games, the Terriers' defense showed they still have a lot to work on going forward.
Clarkson outscored the Terriers 8-3 over the two-game weekend. BU has allowed nine goals in its previous three games. The Terriers are capable of curtailing a capable offense and completing a comeback. However, neither of these traits were exhibited in this past weekend's competitions.
Durocher said he believes a win was within his team's grasp. Both games went into the third frame with Clarkson having scored two goals.
"We just need to get better in all areas," Durocher said. "The forwards back-checking a bit more, the [defense] being more determined in our end and the goalie stopping the ones they're supposed to stop and occasionally making a great save. Everyone has a part in this process. All of us together need to tighten up a bit."