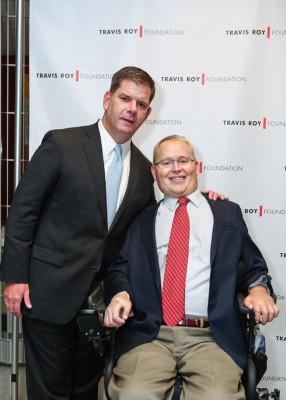 Travis Roy, a Boston University alumnus and former member of the BU men's ice hockey team, was paralyzed from the neck down after a tragic accident 11 seconds into his first time on ice as a Terrier 20 years ago. During a fundraising event Tuesday honoring the 20th anniversary of Roy's life-changing accident, Boston Mayor Martin Walsh declared Oct. 20 Travis Roy Day in the City of Boston, according to the Travis Roy Foundation website.
Roy said he was impressed with Walsh for attending the event and the "pretty neat" proclamation. Roy added that a lot of generosity has helped his foundation's greater cause.
"I can tell you it feels good," Roy said. "This is certainly not the road I would have chosen, but I'm proud of what we've been able to accomplish. When I say we, I mean the greater Boston community that has supported me and made my life so much easier than it could have been."
Approximately five months after his accident, Roy and his family launched the Travis Roy Foundation to help those with similar injuries, Roy said. The foundation focuses on providing adaptive equipment for the injured and research in the medical field, he said.
"I don't want to be in this wheelchair for the rest of my life. I'm a little disappointed that I've been in it as long as I have," Roy said. "I'm excited for what the next 15-20 years will offer. I don't know if I will walk again, but I feel that I will be independent again."
Many people have not heard of his story until recently, Roy said, but he's glad that even after 20 years, he can still touch the lives of students and athletes in a variety of ways.
"The generation that saw the Travis Roy story is now old enough and are in a position to maybe get involved with our work and have a bigger impact — that means a lot to me," he said. "We're all a little older [and] we're all a little wiser."
The foundation has also established a partnership with BU's Sargent College of Health and Rehabilitation Sciences called the Travis M. Roy Professorship in Rehabilitation Sciences, a Tuesday release stated. The partnership will provide infrastructure for the foundation and "outreach support for the shared objectives of the University and the Foundation," the release stated.
With a gift of $2.5 million from an anonymous group of donors, the partnership allows Sargent a yearly stipend of $50,000 for 10-year staffing assistance for the foundation, according to the release. The gift also allows an on-campus office space for the foundation, the release stated.
BU men's ice hockey head coach David Quinn said Travis' "incredible" character encourages Quinn to "be a better person" and that Travis will be remembered daily, not only on Oct. 20, as he has abundantly influenced the men's ice hockey program.
"Travis represents an awful lot of what BU's all about; you know, mental toughness, focus and [a] never-quit attitude," Quinn said. "He certainly represents that mindset that Coach [Jack] Parker and Coach [John] Kelley established here for over five decades and nobody epitomized that more than Travis does."
"[Travis'] story is incredibly moving and inspiring," Quinn said. "What he has done with his life and the impact he's made for so many people is really immeasurable."
Several players on the BU men's ice hockey team have expressed their elation regarding Roy's honor.
Brandon Hickey, a sophomore in the College of General Studies, said it's important to honor Roy and help share his inspiration with a larger audience.
"His whole story just goes to show you how you can't take anything in life for granted because you never know what could happen," the defenseman said. "It also has taught me that no matter what happens to you, you have to have a positive outlook on life and do whatever you can to live your life to the fullest and do what makes you happy."
Connor LaCouvee, a sophomore goalie in the Questrom School of Business, said Roy's story amazed him when he first heard it.
"It's really an inspiration to see a guy like that living successfully and helping others live a fulfilling life," LaCouvee said. "He's become a huge role model not only in the hockey world, but among others who are paralyzed."
Chase Phelps, also a sophomore in CGS and a forward on the team, said he admires Roy's strength and attitude.
"It's unbelievable to see all the people he has positively impacted. He has brought together not only the BU hockey family but the entire city of Boston," Phelps said. "His story makes me feel grateful for the opportunity I have to play hockey for BU. The banner with the big No. 24 hangs in Agganis [Arena] as a reminder for all of us to appreciate every second we get on the ice."