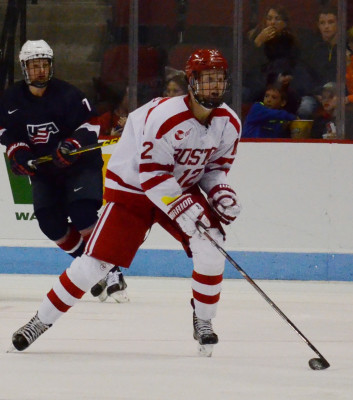 Seeing his team fall in an exhibition game to the U.S. National Team Development Program Under-18 Team last weekend made David Quinn realize one thing — his players don't like playing in games that don't count.
Luckily for the No. 8 Boston University men's hockey team, the games all matter for the rest of the year.
Getting underway with Hockey East play, the Terriers (1-1) will play a home-and-home with the University of Connecticut, hosting the Huskies (2-1) Saturday afternoon and traveling to Hartford on Tuesday night.
BU most recently took a 4-1 decision over the University of Wisconsin on Saturday to earn their first win of the season. Behind points from 10 different Terriers, the team overpowered the Badgers (0-2-2).
"The two games that we've had to play for real, we've competed, we've skated, we've been physical," Quinn said of the first two regular-season games. "We've done all the things we're going to have to do if we're going to have a successful season, which is a good feeling."
What was helpful, according to Quinn, was the switching up of the lines that the Terriers rolled out. The second line centered by freshman Jakob Forsbacka Karlsson created a lot of chances with speed and stickhandling ability.
Quinn was pleased with what he saw from all four lines, admiring the balance his team had throughout the lineup. He said he would like more of that in the upcoming games, though this weekend might put a crimp in those plans, as the team may be without senior assistant captain Matt Lane, who Quinn said has a lower-body injury and is questionable to play Saturday.
"I liked the look of those lines," Quinn said. "I thought [junior forward] Robbie [Baillargeon] had a good night, too. Robbie's played well. And I think Robbie wants to be in the middle. Lane and [freshman forward Ryan] Cloonan give JFK some speed. [Sophomore winger A.J.] Greer and [sophomore forward Nikolas] Olsson give Robbie a little bit of thump with skill.
"We got contributions out of everybody," he said.
Last season in two meetings with the Huskies, the Terriers did not lose to their conference opponent. Their first game, a home contest on Nov. 8, resulted in a 4-4 tie. Then-junior forward Danny O'Regan had two goals and an assist, while then-freshman defenseman Brien Diffley also had two points on a goal and an assist.
Two weeks later, the Terriers made the trip to the XL Center in Hartford and posted a more decisive 5-2 win. BU struck first with a goal each in the first and second period before opening things up in the final frame with three third-period markers. Then-junior forward Ahti Oksanen came through with three points on the day with two goals and an assist.
To start this season, the Huskies began with a two-game road trip to the University of Alabama in Huntsville, which they split by swapping 5-2 results with the Chargers (1-1) on Oct. 9 and 10. UConn then came home to play Arizona State University last Friday and nabbed a 5-1 victory over the Sun Devils (1-4).
Freshman Maxim Letunov has led the way for UConn in the early goings, having an impact on half of his team's goals scored, with three goals and three assists. His tally against UAH on Oct. 9 proved to be the game-winner, and he's also had his name on the scoresheet in each of the Huskies' three games to this point.
Forward Spencer Naas, second on the team in scoring, has also made a mark on games for the Huskies, racking up a pair of goals and assists through the first three games.
In net, goaltender Rob Nichols has started this season off much like he wrapped up his last. The netminder had a .918 save percentage and allowed 94 goals on 1,146 shots, the most shots any Hockey East goalie faced in 2014-15. His 1,052 saves were also good for most in the conference. In two starts this year, Nichols has allowed three goals on 40 shots for a .925 save percentage.
After the Huskies' ninth-place finish in their first season in the conference, Quinn expects the team he faces this year to be an improved bunch, especially with a strong, young group coming in.
"I know that they've upgraded their talent level," Quinn said. "Obviously they had a very blue-collar approach last year, I don't think they'll ever lose that with Mike [Cavanaugh] as their coach. But they've added some great freshmen. They had a really good freshman class, so the skill level will be higher than it was last."