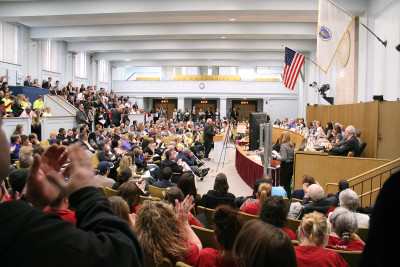 As part of an ongoing national conversation about the ethics of allowing terminally ill patients to die on their own terms, state legislators considered a bill about physician-assisted suicide at a Tuesday hearing at the Massachusetts State House.
The bill, which resembles similar legislation passed in Oregon and California, would allow physicians to prescribe lethal drugs if a patient meets certain requirements, allowing the patient to supposedly control their own death.
"It will allow people who have been diagnosed with a terminal illness to be involved with this process," said state Rep. Louis Kafka, the bill's author. "What I mean by terminal is incurable, irreversible, and within reasonable medical judgment, [an illness that] would result death within six months. If that is the case, it will give them the choice to end their life, if they meet other criteria."
Advocates argued that people should be able to decide how to end their own lives. Attendees shared personal experiences involving older relatives that died slowly and in pain. Kafka, who has been personally affected by the loss of a constituent in this way, said he hopes to pass the bill in this person's memory.
"My constituent died before any hearing, and we don't know what he would've done because he wasn't given a chance," Kafka said at the hearing. "I promised myself that as long as I was a member of the legislature, that I would continue to work to get a bill allowing physician-assisted suicide to pass."
Physician-assisted suicide is legal in Oregon under what is known as the Death with Dignity Act, as well as in Washington, Vermont and most recently California. In Montana, it is upheld by court decision. Eight states other than Massachusetts are currently considering the matter.
George Annas, a professor of health law, bioethics and human rights at Boston University, said, given the constraints it places on who can take advantage of it, the bill stands to help people in pain. After all, he said, physicians would only prescribe the lethal drugs. Patients decide to take them.
"Physicians should have an ethical obligation to provide their patients with the best care they can when the patient is terminally ill," Annas said. "This care should include the prescription of drugs that have a legitimate medical purpose … The decision of whether or when to use these drugs should be the patient's, and not influenced by the physician."
Annas described the bills already adopted in Oregon and California.
"The California law was just signed by [California Gov. Jerry Brown], and does not take effect until next year," Annas said. "It is based on the Oregon model, which has been around for more than a decade. There do not seem to have been any major abuses in Oregon, although it has only been used by a small number of dying patients."
Opponents of the bill also shared personal testimonies, this time focusing on medical improvements and growth that came as a result of someone who lived longer than their original prognosis.
Several physicians including those from the Massachusetts Medical Society expressed their doubts about the bill at the hearing.
"Physician-assisted suicide is fundamentally incompatible with the physician's role as healer," said Henry Dorkin, vice president of the MMS, in his testimony. "Instead of participating in assisted suicide, physicians must aggressively respond to the needs of patients at the end of life in order that these patients continue to receive emotional support, comfort care, adequate pain control and good communication."
The Massachusetts Family Institute, a pro-family organization that testified at the hearing, said the health care sector should focus on new treatments instead of physician-assisted suicide.
"Doctor-prescribed suicide is unwanted and unnecessary since every patient has the right to palliative care and to refuse artificially-prolonged life," a statement on the MFI website read. "Pain alleviation treatment for terminally-ill patients has made tremendous progress, and the health care sector should be looking to continue this trend."
Several attendees at the hearing had mixed opinions of the bill and how it will impact those who are terminally ill.
Shelley Austin, 39, of Gardner, wrote a poem about her own personal experience with this legislation. She said although elderly people may be suffering, they still are valuable to family members.
"There were times that I thought, she couldn't last very long, a stroke, a broken hip, still she carried on," she said about her 99-year-old grandmother. "It took a long time for Alzheimer's to take her, but I know she made my life good."
Betty Morningstar, 63, of Newton, said she supports this bill because it will give people a more dignified death.
"It gives some comfort to people who know that they are otherwise facing a very horrific, or even mildly horrific death," she said.
Morningstar said policy makers and people in the legislature shouldn't let their personal views and emotions affect the outcome of this bill, since this bill has been brought forward three other times, she said.
"[Legislators shouldn't] decide how to approach a matter like this that involves life and death on how [they] think or feel," she said. "What matters is what the client thinks or feels."
Alice Bachant, 73, of Mattapoisett, said that she opposes the bill because physician-assisted suicide is not compassionate, and humans need to care for each other.
"Because what we are doing when we say we are helping someone, we are helping someone kill themselves," she said. "We are helping to commit murder, which we are totally against as humans. We are here to care for one another. To help people lead a good life. To die in peace."
CORRECTION: A previous version of this article stated that the Massachusetts Family Institute was not present at the hearing. The article has been updated to reflect this change.