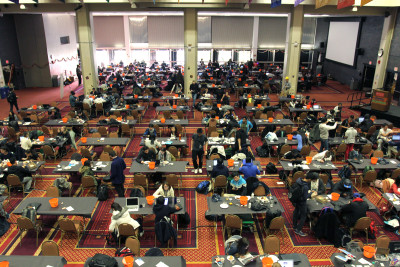 Hacking isn't just for solo coders anymore. At events such as BostonHacks, the 24-hour coding competition held in Boston University's George Sherman Union Saturday and Sunday, teams of students work together to create something such as an app or a program using computer science skills.
Make BU, a student tech organization on campus, decided to open BostonHacks to all students, whether they go to Boston University or not, for this year's hackathon. The organizers of BostonHacks said they saw an overall lack of opportunities for students interested in technology and computer science to get involved on campus.
"As I talk to certain people who are in computer science or computer engineering, it's not as big a presence on campus as it is at other schools that I've seen from going to other hackathons," said Alexandra Miller-Browne, a junior in the College of Engineering and one of the event's organizers. "So I thought it would be good to bring that to BU."
Past visits to other universities' hackathons, as Miller-Browne mentioned, were also a driving force behind BostonHacks.
"You go to [this] event and you dedicate a full day and just try to power out something you've never worked on before," said Nico Hinderling, a junior in the College of Arts and Sciences and the event's logistical coordinator. "After the event, you might not have something that's super polished, but you might have the skills to go out and create something. It's a great learning experience."
Hinderling also added that hackathons not only help bolster interest in computer science in Boston, but will also give BU's Department of Computer Science more "gravity."
"Students applying to universities are going to say, 'Wow, Boston University is the university I want to go to for computer science,'" he said. "I hope to keep seeing the computer science presence grow on campus."
In addition to raising awareness about computer science at BU and opportunities in the technology industry, Jack Knollmeyer, a junior in CAS and assistant to the director of BostonHacks, said that the hackathon and future events like it have the potential to highlight individuals' achievements in the industry.
"While we do have a bunch of people interested in computer science and computer engineering, sometimes it gets overshadowed because it's such a big school," Knollmeyer said. "When you first look at BU, you don't think of engineering or the CAS computer science program. We want to bring awareness to the cool things people at BU are doing in regards to computer science."
Steve Homer, a professor of computer science at BU, said hackathons are a good way to engage students in the field outside of the classroom.
"[Hackathons] promote a lot of team learning and expose our students to some new, interesting problems they can solve in a limited and very controlled amount of time," Homer said. "They're fun too."
According to John Byers, another computer science professor, the subject is a "collaborative discipline" and hackathons provide an opportunity for students to enjoy this aspect of the profession. Byers also said he likes how hackathons are accessible to students who are not necessarily in the field, but just like to code or invent new technology.
The way computer science is taught in colleges is constantly changing, Byers said, and hackathons make evident some of the changes that have occurred over the years.
"I think it's moved out of the realm of soloists and into more group work," he said. "Even though we've become more online and more digital, education is moving in another direction where people are getting face to face in one space and working on something. Not remotely, but physically together."
Homer agreed that computer science education has changed, and opportunities for graduates with a computer science degree are also increasing.
"It's much broader now," he said. "Computer science is part of almost every company, from startups all the way to the biggest companies. You can get a position at almost any type of entertainment or research or social science or humanities company. There's a need for computer science everywhere."