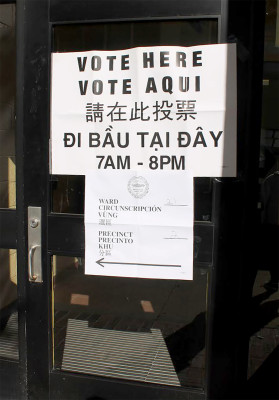 Approximately 14 percent of registered voters in Boston voted Tuesday in the municipal elections for the Boston City Council.
With 50,807 ballots cast out of the 372,889 voters, the turnout rate was lower than in the 2013 municipal elections, which also included the mayoral race and a ballot question about casinos in East Boston.
Lower voter turnout can be explained by the fact that only city councilors are on the ballot this November, said Richard Parr, research director at MassINC Polling Group. Though a 20 percent turnout was expected, Parr said he would not be surprised if it were lower.
"It's sort of ironic because people vote most in the elections that have the least impact on them directly," Parr said before the vote. "People turn out to vote for presidents, and then fewer people will then turn out to vote for their congressperson or senator or governor, and then even fewer will end up voting for mayor, and even fewer than that will vote for City Council."
Jacqueline Lapidus, 74, of Brighton, said she always votes and believes it is a responsibility of citizenship in a democracy. General disappointment in politics can deter voters, she said, especially in smaller-scale elections.
"Many of my friends, contemporaries who are past retirement age, have given up on politics, local if not national, because they do not see elected officials responsive to the issues that matter to ordinary people," she said. "The first president I voted for was Jack Kennedy in 1960, we had great hopes, my generation had great hopes for a better country and I'm not seeing it now. I feel as if we're back in the 1950s and I do not like the smell of it one bit."
Erin O'Brien, a professor at the University of Massachusetts Boston, similarly credited the lower turnout to a lack of interest generated by the candidates.
"It's inefficient by having no one at the top of the ticket — meaning a presidential race, an important senate race or congressional race or a mayoral race, those are the kind of races that people tend to get excited about," O'Brien said.
Massachusetts' dated policies, O'Brien said, drag down the numbers of people actually appearing at the polls.
"Top researchers show that the fact that Boston chooses to hold the municipal elections during odd years — meaning ones that don't correspond with a congressional [or] presidential race, undermined turnout most among communities of color and low-income individuals," O'Brien said.
Although experts and data may show that voters do not participate as much in local elections, voters that turned up at the polls cited civic duty as a primary motivation to vote.
Sheryl Mendlinger, 55, of Fenway, said voting is a vital part of encouraging change, as well as a privilege and responsibility, even if you are a temporary resident of a community.
"I came out to vote for the right people who support the things I believe in, things like support for Planned Parenthood and small businesses. I believe in those who are getting things done for the city," she said. "So many people who live here are students and might not feel a real connection to the city. The candidates or their platforms could be more widely publicized so people know the importance of their positions and why they should vote."
South Boston resident Gary Robinson, 75, was reminded of Election Day through the newspaper and a letter, which caused his thoughtful voting process.
"I only voted for the ones that I wanted, and if the only person who is on the ballet is someone I don't want, I typically won't vote," he said. "But most of it was reading the newspaper and reading what the people had to say. And I said that I would rather support somebody, and it's not a big deal to come over here and vote."
The electoral process is still emphasized as incredibly important for new citizens, which encouraged Vincent Miles, 50, of Beacon Hill, to vote at City Hall this afternoon.
"I am an immigrant, and even though I have been here for 30 years, I think voting is important and I always make sure to do it," Miles said. "It's one of the things they emphasize in the naturalization process, so I think it is important."
Luanna Witkowski, 57, of Mission Hill, said she wishes for the candidates to look to the actual constituents of their neighborhoods, rather than larger, polarizing interests of corporations or universities.
"I would like to also see them attend to the wishes of the neighborhoods and to really look at a larger picture of forward planning," she said. "I know that the city's trying to start something like that now, but I'd like to see these city councilors and the representatives really put their feet down and say, 'It's time for us to listen to neighborhoods and not just business and college interests.'"
Ellen Cranley, Grace Li, Dave Sebastian, Kyler Sumter and Sadiah Thompson contributed to the reporting of this article.